Review: 'John Lewis: Good Trouble' Reminds Us the Black Heroes Matter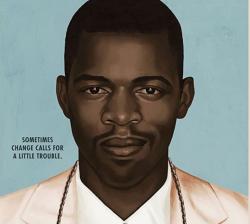 Looking to complete your weekly antiracist work? Watch the poignant, inspirational documentary "John Lewis: Good Trouble," a 90-minute chronicle of the civil rights leader and lawmaker's lasting impact on the country, directed and produced by Dawn Porter.
Black heroes matter, and the longtime Congressman, a Georgia Democrat, has lived the civil rights movement since his birth in Troy, Alabama. His father was a sharecropper who saved up to buy 110 acres of land in 1944, property the family still owns today. Young Lewis wanted to be a preacher and would evangelize to his chickens, stories he still tells today in his congressional office (which is populated with ceramic hens). He also repeats his famous motto, urging young activists to get into "good trouble, necessary trouble, do what is right."
He wrote to the Reverend Dr. Martin Luther King, Jr., when his application to Troy University was ignored. The legendary leader, as well as others, tutored Lewis in nonviolence, and he participated in lunch counter integration sit-ins while still a student in Nashville.
"I had to keep loving the people who denied me service," he says.
"I wanted to change things, put my body on the line," he adds. "I would no longer go along with an evil system."
And he has put his body and life on the line time and time again, getting arrested 40 times and another five times as a member of Congress. The police cracked his skull when they attacked the peaceful protestors during the Selma March over the Edmund Pettus Bridge. Most recently he sat on the floor of the Senate to protest the racist southern border wall, noting, "sometimes you have to sit down to stand up for something."
Many legislative peers speak in the film about Lewis's sacrifices and continuing leadership, including historian Henry Louis Gates, Jr., Hillary Clinton and Bill Clinton, Texas Senate candidate Beto O'Rourke, Georgia gubernatorial candidate Stacey Abrams, freshmen representatives Alexandria Ocasio-Cortez, Ayanna Pressley, Rashida Tlaib, and Ilhan Omar, who regularly gets death threats and remembers that Lewis got a concussion so the conscience of the country was awakened, that "there are great bruises that we take as catalysts for change."
Senator Cory Booker talks about the surgical precision of modern disenfranchisement that Lewis continues to fight. Lewis notes that people, especially of color, continue to be beaten, arrested, and jailed for voting. He worries that the current administration is trying to take us back to another dark period.
"We've made progress, but we've still got miles to go," he says. "We're still in the civil rights movement." Abrams agrees that "our past has not passed. And if your voice didn't matter, they wouldn't be trying to shut you up."
Voter suppression in African-American, Latinx and Asian communities has been Lewis's most visible cause, since it's the go-to move in the GOP playbook, including misuse of voter ID laws and purging voter rolls, plus eliminating early voting, same-day registration, and polling places in minority communities.
He says, "My greatest fear is one day we wake up and our democracy is gone. As long as I have breath in my body, I will do what I can."
"Your vote is the most powerful non-violent instrument."
Lewis has also been a legislative leader in the House, sponsoring many important pieces of legislation, including protections for fair housing and wages, gun safety, environmental justice, violence against women, and the Affordable Care Act.
Speaker Nancy Pelosi says John Lewis "challenges the conscience of the Congress." During his first inauguration, President Barack Obama told Lewis that his election was "because of you." During his second, Obama said, "It's still because of you, John."
Lewis's selfless legacy receives deserved illumination in this documentary, and Lewis's message remains clear and hopeful: "This is not a time for despair, but a time for action."
It's also time to remove the name of Edmund Pettus, a Confederate general and head of the Alabama Ku Klux Klan, from that notorious bridge. That historical location must be renamed the John Lewis Bridge.

"John Lewis: Good Trouble" is in theaters and on demand. For details, visit https://www.johnlewisgoodtrouble.com
Karin McKie is a writer, educator and activist at KarinMcKie.com
Comments on Facebook