Review: 'Sublet' a Sweet Story of Intergenerational Friendship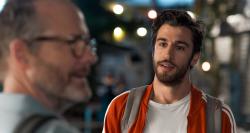 A middle-aged American writer and a twenty-something aspiring filmmaker make a connection in Tel Aviv in Eytan Fox's sweet new film "Sublet."

Michael (John Benjamin Hickey) is a New York Times travel writer whose column revolves around the idea of visiting a city for five days and trying to find the "real" place underneath the tourism. Things get a little too real right away when he shows up in Tel Aviv expecting his sublet to be ready, waiting, and empty - only to find a disheveled young filmmaker named Tomer (Niv Nissim) still ensconced in an even more disheveled apartment.

The apartment isn't the only thing that's in disarray. In a few swift strokes, Fox and co-writer Itay Segal sketch out Michael's troubled relationship with his husband, David (Peter Spears), who is charging ahead with a plan to have a child via surrogacy - a plan Michael's no longer sure he's on board with.

Michael's carefully constructed itinerary takes another hit when it turns out that Tomer is in such dire need of money that he's sublet his apartment without having anywhere else to go. After a day spent with Tomer acting as his tour guide - and helping him fulfill his hope to see some of the "real" Tel Aviv by steering him away from all the typical sights and toward more cozy and intimate local experiences - Michael offers Tomer a deal: He can stay with Michael in the apartment if he'll continue to show Michael around.

Their adventures include an afternoon at a local beach, shots over dinner at a neighborhood eatery, and expensive high-end muffins, but it's the personal connection they forge that turns into the real excursion. Michael's so buttoned up and organized that he's forgotten the fun of being young, sloppy, and unattached - if he ever knew it in the first place. (One gets the sense that Michael is like that soapy song from the early 1980s: He might have been to Dubrovnik or Florence or wherever, but he's never been to himself.)

Inevitably, the subject of AIDS comes up; Michael lived through the peak of the crisis in New York and wrote a novel about it - aptly named "Complications" - and Tomer, upon learning this, in initially dismissive: "Why does everything have to come back to that?" he grouses. It's up to Michael to point out, gently, that he didn't "go back" to anything. He was there. He lived it. The generation gap comes into play in other ways, too. At another point, learning that Tomer's best friend - a dancer named Daria, played by Lihi Kornowski - is planning to move to Berlin with her boyfriend to start a dance company, Michael wonders why anyone Jewish would leave Israel for the nation that made a multinational industry out of killing Jews. The youngsters simply stare at him before bursting into laughter and telling him that Berlin is "cool." The world, it seems, is now in a different place than Michael has assumed.

That's certainly true of the kind of carefree approach to sex and relationships that Tomer enjoys, and Michael has long forsaken (again, assuming he ever experienced it first hand). While Michael puzzles over the idea of "ordering in sex like it was pizza," Tomer goes onto a hookup app and invites a hot young man over - "for us," he tells Michael casually. The hookup doesn't unfold in the usual way (it's far too awkward a situation for Michael, though Tomer is unfazed), but any paternal or avuncular vibe between them is promptly blown out of the water.

So what does that leave them with? That's the question at the core of the story. Older gay man meets younger gay man, and what will they mean to each other? Mentorship? A May-December fling? There are touches of those things here, but the playing field is more level than that: They are, in a sense, mentoring each other.

"Sublet" has many subtle, sweet surprises in store, the best of which is also the simplest: Friendship. Fox brings his usual empathy and sense of fun to the film, and - as always - shows us a Tel Aviv we can fall in love with.


"Sublet" plays at the OUTshine film festival.
Kilian Melloy serves as EDGE Media Network's Associate Arts Editor and Staff Contributor. His professional memberships include the National Lesbian & Gay Journalists Association, the Boston Online Film Critics Association, The Gay and Lesbian Entertainment Critics Association, and the Boston Theater Critics Association's Elliot Norton Awards Committee.

This story is part of our special report titled "OUTshine 2021." Want to read more? Here's the full list.
Comments on Facebook