Review: 'History Is Made At Night' Another Loving Restored Classic from Criterion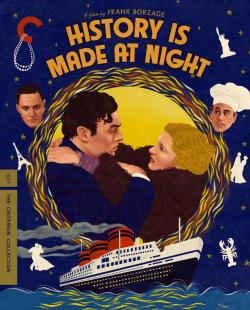 Of all the old Hollywood studio directors, Frank Borzage mastered the melodrama genre in a way that was out of step with his peers. Many of his films have the plots of adventure films or sweeping romances, but he always had a knack for putting the poetry caused by love front and center. No matter how elevated the hijinks became, they were bolstered by a love of romantic love and incredible performances from some of the hottest stars of the 1930s and '40s.

The Criterion Collection brings Borzage's "History Is Made at Night" to Blu-ray with a terrific new 1080p presentation sourced from a new 4K digital transfer from a 35mm nitrate duplicate negative. The video presentation looks incredible, especially considering how old the film is now. And despite a few specific points of grain distribution that looks a touch off, this is a definitive presentation of the film. Add in a slew of special features that further illuminate the Borzage's undeniable filmmaking prowess, and you have another major success from Criterion.

Irene Vail (Jean Arthur) is the wife of wealthy ship owner Bruce Vail (Colin Clive). After Bruce accuses Irene of having an affair, she takes off for Paris and falls in love with a waiter named Paul Dumond (Charles Boyer). Paul soon saves Irene from a plot hatched by Bruce to catch his wife in the act with another man and therefore control her destiny. But that's just the beginning of Irene and Paul's globetrotting adventures.

Film critic and historian Dan Callahan has cited "History Is Made at Night" as "...a patchwork quilt genre bender that stands as one of its maker's supreme achievements." That kind of astute insight that zeroes in on what makes the film so special is expanded upon in Callahan's own booklet essay for this Criterion release. It takes a person with great knowledge of old Hollywood and filmmaking in general to write how he does, and his words elucidate a film that should be more highly regarded.

In addition to Callahan's booklet essay, there's a terrific interview with critic Farran Smith Nehme, in which she discusses Borzage's obsession with romantic love across many of his films. If you're a fan of old Hollywood romances, you can't do much better than "History Is Made at Night" and this stellar new release of the film.

Other special features include:

• New conversation between author Hervé Dumont ("Frank Borzage: The Life and Films of a Hollywood Romantic") and film historian Peter Cowie
• Audio excerpts of a 1958 interview with Borzage from the collection of the George Eastman Museum
• Radio adaptation of the film from 1940, broadcast by The Screen Guild Theater and starring Charles Boyer
• Restoration demonstration
• English subtitles for the deaf and hard of hearing


"History Is Made at Night" is now available on Blu-ray from The Criterion Collection.
Comments on Facebook