Review: Entertaining 'Love And Monsters' a Big-Budget Monster Mash-Up Comedy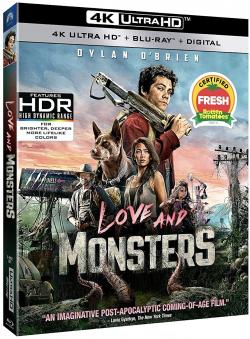 A fun, big-budget action/comedy/monster mash-up, the Dylan O'Brien ("Maze Runner") star vehicle "Love and Monsters" is a welcome entry into the Halloween VOD virtual cinemascape.

Joel Dawson (O'Brien) and his girlfriend Aimee (Jessica Henwick) are just two crazy kids in love when giant mutated animals begin to take over the Earth. The two are separated while trying to escape with their families. Years later, Joel finds himself orphaned and just trying to survive, living with a band of survivors in an abandoned bunker.

He spends his time cooking for his group, which are mostly couples — much to his dismay. So he continues to use a ham radio to try and find Aimee, which he eventually does. When he learns her camp is only about 80 miles away, he decides he's going to go find her. Trouble is, he's not great at protecting himself, often freezes when confronted with danger, and isn't a very good shot. So traveling across dangerous territory doesn't seem like the best fit for him. But he's in love, and he's going to give it a whirl.

Along the way he meets a pair of mismatched survivors, the outspoken Clyde (Michael Rooker) and the diminutive, confident Minnow (Ariana Greenblatt). They take Joel under their wing and give him not only the lay of the land, but some pointers on how to protect himself. Eventually, he realizes he has to go it alone if he's going to make it to Aimee. Or will he?

"Love and Monsters" is breezy, sci-fi action comedy that works well. Most of this is due to the star presence of Dylan O'Brien, who has that old school humility and likability that Tom Hanks had in his early years. The monsters are fun, and the cinematography is colorful and epic.

The most fascinating aspect of the film is that it seems like a very simple premise: Lovesick guy learns to defend himself as he goes to seek out his old girlfriend. But the changes within Joel build organically throughout the story. He doesn't have that one "Aha" moment where he becomes this amazing fighting machine. It develops throughout the film, so that by the end you truly see a different person. The endgame isn't your typical overly sappy ending, either. There's a touch of realism here that also works with all of the characters involved, and ends up elevating the story.

The effects are mostly good, although some of the monsters are completely goofy looking (a giant crab, for example) so you always know this is a SPFX movie. Even with that, the monsters are integrated well into the action, and there are even a few touching moments that are set up and rewarded later on.

Overall, this isn't going to change the landscape of medium-sized sci-fi action blockbusters (it feels like a YA adaptation), but it's a completely entertaining way to spend an October night, and one that the whole family can enjoy. It also cements Dylan O'Brien's status as a star.

"Love and Monsters" arrives on 4K Ultra HD, Blu-ray & DVD January 5, 2021 from Paramount Home Entertainment.
Kevin Taft is a screenwriter/critic living in Los Angeles with an unnatural attachment to 'Star Wars' and the desire to be adopted by Steven Spielberg.
Comments on Facebook