Review: 'Dry Wind' A Tempestuous Sexual Fantasy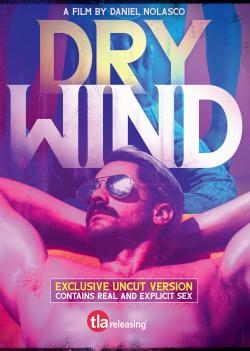 Many men face difficult "dry spells" throughout their sexual lives, but perhaps harder still are the arid stretches where it's not sex that's lacking but, rather, connection. In "Dry Wind," writer-director Daniel Nolasco takes a piercing look at how his main character, Sandro — a 40-something gay man who's pretty much in the closet — sabotages his own chances for love and happiness.

Sandro's world revolves around work. His best friend, Paula (Renata Carvalho), pressures him to help her bring union pressure to bear on the company in order to improve safety; his frequent, hot hookups with younger colleague Ricardo (Allan Jacinto Santana) take place in beautiful settings, such as a eucalyptus forest; and for comic relief there's always Cezar (Leo Moreira Sá), who is full of wild stories.

But when it comes to anything deeper than workplace friendships or secretive sex, Sandro is reluctant to the point of hostility. When Ricardo presses for more, Sandro freezes him out; the arrival of a handsome new worker, Maicon (Rafael Theofilo) helps ease the pain of Sandro's coldness... for both Sandro and Ricardo, as it turns out.

But as Sandro watches Ricardo drifting away from him and into Maicon's orbit, his jealousy grows ever hotter — even as his sense of fear around intimacy literally dogs him, sparking nightmares in which a (barely) leather-clad leashed man growls like a cur and unrestrained sexual scenarios play out. Sandro's dreams and reality seem to overlap from time to time, opening the way for surreal scenes in which he's menaced by a hot police officer or made the guest of honor at a sex show. At the same time, his desire to punish Ricardo — for his own hesitancy, no less — starts to get the better of him. Will Sandro be able to stop himself before he does something catastrophic to the very man he loves?

The film's cinematography, by Larry Machado, is exquisite; editor Will Domingos creates elongated moments that feel just real enough to convince, and just dreamlike enough to cause doubt; and the performances reach into emotional nuance even during moments of explicit sex. What's real? What's fantasy? It's not always easy to tell, and Sandro, living in an emotionally fraught in-between place where he obsesses over Maicon and vacillates over Ricardo, risks bringing too chaos into his actual life as his dreams, and his daydreams, grow more tempestuous.

But it's the writing and direction that excel above all, as Nolasco reaches for, and achieves, a literary level of symbolism with which to elevate the raw cinematic power of his vision. Don't miss this stunning Brazilian film.
Kilian Melloy serves as EDGE Media Network's Assistant Arts Editor. He also reviews theater for WBUR. His professional memberships include the National Lesbian & Gay Journalists Association, the Boston Online Film Critics Association, The Gay and Lesbian Entertainment Critics Association, and the Boston Theater Critics Association's Elliot Norton Awards Committee.
Comments on Facebook