Review: Orlando Bloom Shines in Brutally Honest 'Retaliation'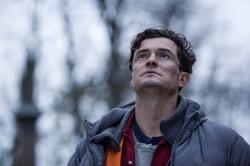 In this supremely strange year when a pandemic has altered our lives and livelihoods, most big studio film releases have been pushed indefinitely. This has opened the door for quite a number of indies to find homes via VOD/streaming platforms. Some of these movies languished in limbo for varying reasons; many are your typical violence-driven, mostly-misogynistic thrillers (I've now seen my fill) that appeal more to gamers than lovers of cinema.
On paper, "Retaliation" fits this bloodthirst-seekers description. The (misbegotten) title alone is salivation bait for savagery enthusiasts. The press-supplied blurbs promise "a path to vengeance," and the trailer promotes the retribution angle further so that we expect some sort of Bronson-meets-Neeson-murder-rampage experience. And, let's face it, Orlando Bloom's CV, of late, isn't really brimming with gems ("The Outpost" is a notable exception).
The shocker: "Retaliation" is one of 2020's best kept filmic secrets and Bloom's remarkable performance is an absolute knockout — not only his best on-screen performance ever, but one of the year's most outstanding turns. Never before has this actor displayed such incredible depth of feeling and the ability to mine repressed emotions. The film, and Bloom, will leave you breathless.
So why promote it in such a deceptive manner? My guess is because of the subject matter and the way it's handled: Honestly — and brutally so. "Retaliation" is about the everlasting and insidious trauma that follows and haunts a man who was sexually abused by his Catholic priest when he was an adolescent. It seems people would rather forget the horrific crimes the Church has committed (and continues to commit) against our children than actually confront them. Ask yourself: Why is it never "Time's Up" for this particular institution, which has harmed so many children over the span of decades (perhaps centuries)?
Directed by the brothers Ludwig and Paul Shammasian (who keep the film moody and gritty throughout), "Retaliation" premiered at the Edinburgh Film Festival in 2017 and played in a few countries under the original (and far better) title "Romans." The sparse, yet potent, script, written by Geoff Thompson and based on his own abuse, is adapted from the short film "Romans 12:20," that Thompson wrote and the Shammasians directed back in 2008. Saban Films had the courage to buy it for distribution — finally — here in the U.S.
The opening shot is a close up of Jesus on the cross. The giant crucifix is mounted inside a church that is about to be demolished by workers that include a brooding and intense Malky (Bloom) angrily wielding a sledgehammer. The film then cuts to Malky having rough sex with his girlfriend (an effectively heartbreaking Janet Montgomery) from behind. (Some of the symbolism is a bit heavy handed, to say the least, but in the stifling milieu this film lives in, it works.)
We know Malky is troubled from the get-go since he has stormy relationships with both his mistreated gal and his pious and distant mother (an excellent Anne Reid). He also locks horns with a mysterious abuse survivor figure (Charlie Creed-Miles) who appears to want to help him. The only person Malky seems to get along with is his bestie (a terrific Alex Ferns). We later discover that Malky selflessly went to prison, taking the rap for something his BFF did (possibly wanting to atone for what he saw as his sins).
Malky spots his former priest and abuser, Father Jimmy (James Smillie), in the bathroom of a local pub and all the anguish comes rushing to the surface, bringing him right back to when he was 12. Malky's world starts to implode, but he does not share his past with anyone. It turns out Father Jimmy has been assigned to a local parish. Tellingly, when Malky tries to warn his mother, saying, "He's not a good man," she responds with: "He was never anything but lovely to us." How can you get through to someone who refuses to hear the truth?
The film is less plot-driven and more a character study (another possible reason for the promo subterfuge). We are given glimpses of Malky's percolating ferocity, and once he sees Father Jimmy, he must face his own internalized demons and the psychological ravages that he has inflicted on himself because of the shame he feels.
Bloom paints Malky with subtle, yet frightening, strokes, at first hinting at his percolating ferocity and then journeying on a quest to wrap his mind and soul around what he has long repressed but been forever haunted by. He then unleashes a primal mea culpa — a desperate release. The actor takes tremendous risks and they all pay off, including a daring scene of painful sexual masochism, as well as a third act monologue that is wrenching in its sincerity and torment.
The ending will upset some, since it conveys a kind of catharsis that goes beyond the obvious, and it — SPOILER — betrays the title. It sat pretty well with me, although it shifts focus away from Malky, which is slightly problematic. Still, it's startling and effective.
"Retaliation" is not a perfect film, as it aches for more development across the story boards and the Shammasians are still in a bit of a cine-dazzle phase, but it is a complex and powerful work that deserves to find an audience.
And Bloom's extraordinary achievement should be recognized.
Frank J. Avella is a film and theatre journalist and is thrilled to be writing for EDGE. He is also a proud Dramatists Guild member and a recipient of a 2018 Bogliasco Foundation Fellowship. He was awarded a 2015 Fellowship Award from the NJ State Council on the Arts, the 2016 Helene Wurlitzer Residency Grant and the Chesley/Bumbalo Foundation Playwright Award for his play Consent, which was also a 2012 semifinalist for the O'Neill. His play, Vatican Falls, took part in the 2017 Planet Connections Festivity and Frank was nominated for Outstanding Playwriting. Lured was a semifinalist for the 2018 O'Neill and received a 2018 Arch and Bruce Brown Foundation Grant. Lured will premiere in 2018 in NYC and 2019 in Rome, Italy. LuredThePlay.com
Comments on Facebook