Review: Despite the Title, 'Shithouse' One of the Year's Best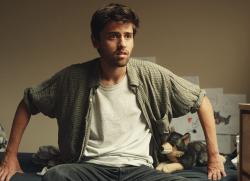 What can I say about Cooper Raiff's feature debut, except that it's one of the best films of the year?

An incredibly insightful look at young adults taking their first step into independence, "Shithouse" is truly one of the best-written films of the past few years. To add to that, Raiff's modest direction and winning lead performance bolster a script that intelligently deconstructs the emotions of the college experience.

This isn't an alcohol-fueled banger about crazy straight kids doing crazy "I'm finally free of my parents" stuff. This is a film about a young man named Alex (Raiff) trying to let go of his deep connection to his family and open himself up to a world that is waiting for him.

On the flip side is his R.A., Maggie (Dylan Gelula of "Kimmy Schmidt" fame), a sophomore who didn't have a close family life and has embraced her independence to a fault. These two drastically different people wind up spending an evening hanging out together where they find many commonalities, as well as a slew of things they need to learn from each other (whether they want to admit that or not). While this night makes up is a good chunk of the film, it is the next few days that define what the film is about, as the two have very diverse reactions to the experiences of the night before.

Alex, who doesn't have any friends yet at college, is immediately entranced by Maggie and wants to spend as much time as he can with her. While he's not wrong in his assessment that the two had a strong connection, his obsessive texting and attention on her becomes an issue.

Maggie, however, turns distant and cold, and doesn't understand Alex's need to define what happened and what they are to each other. Neither of these people are going about this the right way, but both are reacting according to their own life experiences.

This is why Raiff's script is so insightful. There is no good or bad here. Both characters do stupid things in reaction to a very sweet night they had together, and neither are good at handling the emotions that come through as a result. But that's what it's like to be a nineteen-year-old trying to navigate the world alone.

Instead of making a typical teen college comedy, Raiff makes a movie that shows what the college experience is really like — not just in how two people from different places interact with each other, but also how someone must navigate cutting the familial strings and take their first true leap into adulthood.

It's scary and beautiful and devastating, but it's a natural rite of passage. And Raiff illustrates it beautifully with tremendous depth and heart. This is one of the best films of the year.
Kevin Taft is a screenwriter/critic living in Los Angeles with an unnatural attachment to 'Star Wars' and the desire to be adopted by Steven Spielberg.
Comments on Facebook