Review: 'She Dies Tomorrow,' But So What?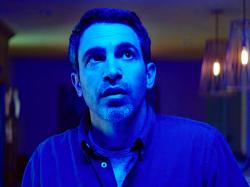 I love that indie films are getting a fresh look now that the big blockbusters are mostly getting moved to next year. It gives the chance for general audiences to experience other perspectives than a young boy discovering his powers or a girl fighting fascism. The horror genre, especially, is being allowed to flourish now that VOD and — in some cases — drive-ins are showing first-run thrillers and horror movies that are eking out of the indie labels and getting a fresh life they probably wouldn't have when the new "Top Gun" is in theaters.

But while there are a ton of gems to be found, not all hit the mark. And while actress/director Amy Seimetz's new horror/comedy/thriller "She Dies Tomorrow" has some panache, it's ultimately too esoteric for most audiences to connect to. Including those that like this sort of thing. (Me.)

The concept is simple: Former addict Amy (Kate Lyn Sheil) gets an overwhelming feeling that she will die the next day, and begins having trouble comprehending the fact that today will be her last. When she gives these details to her best friend Jane (Jane Adams) her wild assumptions are deemed crazy, until Jane herself starts to have the same obsessive thoughts. She in turn shares them with her brother, and so on and so forth.

While it starts as an interesting look at how culture can infect the minds of a mass of people, in this film there are no official rules set forth. When our main characters run into random people who also think they will die tomorrow, we can't be sure where this is coming from. Seimetz indicates the moment when people begin to believe their demise is imminent by utilizing a lighting motif, but what is the cause of it? Aliens? Demons? Something supernatural?

While it sort of has to be preternatural, considering how things play out, we're never really brought in to what's happening, so while the statement Seimetz wants to make is present, it gets lost in a film that is ultimately going nowhere.

To her credit, Seimetz creates an interesting atmosphere, and she clearly has been inspired by directors she's worked with before, like Shane Curruth, whose "Upstream Color" is also a head scratcher, but somehow offers more. Perhaps it's that some movies are esoteric from the get go so you know you're watching more of a thinking person's mood-piece. "She Dies Tomorrow" is billed as an indie comedy/horror, but when you actually watch the film it's only occasionally humorous and never truly horrific. It's just odd, and also sort of sad.

This might appeal to a certain crowd, and I can't say that the actors and Seimetz certainly didn't give it their all. There's not a bad performance, and the directing is interesting; it's just that the script doesn't offer enough to hang your hat on. So whether Amy dies tomorrow or not, you don't really care. Of course, as we all suffer through a global pandemic that doesn't seem to be going away any time soon, there's something a little alarming here, and the parallels — however unintended — are horrifyingly apropos.
Kevin Taft is a screenwriter/critic living in Los Angeles with an unnatural attachment to 'Star Wars' and the desire to be adopted by Steven Spielberg.
Comments on Facebook