Review: Laudable Doc 'Denise Ho - Becoming The Song' Will Put Openly Lesbian Cantopop Singer on a Bigger Map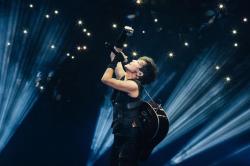 Veteran American filmmaker Sue Williams should be applauded for "Denise Ho - Becoming The Song," a fascinating documentary that will introduce the remarkable gay Chinese/Canadian performer and activist Denise Ho to the rest of the world. Ho may be bigger than Madonna in Hong Kong and China, but she is still sadly little known outside of Chinese communities.
Now 41 years old, Ho was born in Hong Kong but grew up in Montreal when her family moved there in 1988 when she was just 11 years old. With ambitions to be a performer, Ho returned to Hong Kong in 1996 to enter a singing contest, which, to her surprise, she won. That triumph kickstarted her career and eventually, she became the most successful Cantopop singer of her generation.
After the competition, she managed to become a protege of the legendary Anita Mui, an old-school Cantopop diva and the queen of Hong Kong movies. Ho worked with other Hong Kong musicians, but it was her working relationship with Mui that helped create her music and define her style. When, sadly, Mui died of cancer in 2003, Ho assumed her mantle.
Though a disciple of the Cantopop genre, Ho started to create her own music that reflected her slant on life, and that became the means for her to come out of the closet as gay. Ho used her sexuality to not just define who she was, but as a reason to become active in both the LGBT struggle and the fight for democracy.
When Margaret Thatcher, as British prime minister, negotiated the handover for Hong Kong back into China's "ownership" in 1985, very few people believed that the Chinese would honor their part of the agreement for Hong Kong to remain self-governed. They were very quickly proven right.
in 2014, when the Chinese government were trying to impose their nominees to run Hong Kong, almost the entire population turned out in the streets in what became known as the Umbrella Movement. They shocked everyone by occupying the streets in makeshift tents for almost 90 days.
Ho was a staunch supporter of the movement and was later arrested when the police cleared the protest camps. She was too high profile a figure for the Chinese government to make her mysteriously "disappear," like so many other activists. However, they did the next best thing by blacklisting her and banning her from performing in China, which cut off the bulk of her income overnight.
Ho's International sponsors such as Lancome were quick to drop her in order to safeguard their business in China. So when she came to mount her next big stadium concert in 2016 in Hong Kong, 300 small businesses collectively stepped into Lancome's shoes. The concert was a big success, but afterward, Ho was banned from renting any other venues in Hong Kong because of pressure from the Chinese Government.
The disarmingly charming Ho is completely fearless, despite the fact that her public stances place her in a great deal of danger. She is adamant about showing her support as publicly as possible, but still insisting on receiving no favorable treatment when being arrested. Her attitude and genuine commitment really sets her apart from other "pop" celebrities, who just seem to endorse the cause of the day.
In 2019 Ho became an active speaker in international human rights forums. She participated in Oslo Freedom Forum, a global platform for human rights defenders to share their stories. When Hong Kong's proposed bill to allow extradition to China arose, Ho got worldwide media coverage due to her active participation in the anti-bill movement.
Then, on July 8, she attended the United Nations Human Rights Council meeting in Geneva. She asked the United Nations and the international community to protect the people of Hong Kong from infringements on their freedoms, saying that human rights were under "serious attack" in Hong Kong, and called on the UN to remove China from the Human Rights Council.
If there is one fault in William's film, it is the lack of any information on Ho's personal life. It would have been nice to know if the woman who spends most of her time making the world a better place for everyone actually had someone at home to do the same for her.
The documentary is being released to mark the 23rd Anniversary of the handover of Hong Kong, and is being streamed globally on Kino Lorber's online virtual cinema from July 1st.
Roger Walker-Dack, a passionate cinephile, is a freelance writer, critic and broadcaster and the author/editor of three blogs. He divides his time between Miami Beach and Provincetown.
Comments on Facebook