Review: 'Shirley' Is A Feminist Tour de Force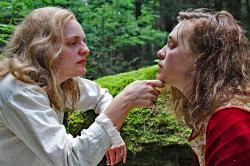 Shirley Jackson's "The Lottery" captivated me when I read it as a teen, forever haunting me. Rather than a typical biopic of the famous horror writer, "Shirley" is a brilliant adaptation of Susan Scarf Merrell's "Shirley: A Novel." It follows Shirley and her husband, Stanley, as a young married couple move in with them, inspiring her to write her next novel.

A feminist tour de force, the film is a stunning portrait of a remarkably talented artist struggling with mental illness and navigating a patriarchal world. Elisabeth Moss gives an incandescent performance as the complicated writer. Shirley scowls; she's brazenly blunt, acerbic, and captivating. An avante-garde filmmaker, director Josephine Decker masterfully plays with perceptions of reality and explores mental illness' impact on art, the subjugation of women (albeit wealthy white women), and the confining constrictions of heteronormative gender roles and societal expectations.

Shirley's writing is showcased through narration and surreal images, with symbolic images of fertility and femininity strewn throughout. Shirley envisions Rose as her novel's protagonist Paula, based on a real missing girl. While she infuses the character with elements of Rose, she's also writing about herself. Where does the writer end and her work begin? Decker also explored the blurred boundaries of art and reality and fiction in her film "Madeline's Madeline." In "Shirley," blurry images in the frame visually underscore those borders. Rose peers through door cracks; Shirley is obscured by Stanley's blurry shoulder or head in the foreground. Elements perpetually conceal and shroud, like we're peeking, catching glimpses, never truly knowing anyone.

Shirley suffers from anxiety and agoraphobia, at times unable to get out of bed and not leaving the house for months. I can relate, as I suffer from depression. It's difficult to get out of bed sometimes, which can impact my writing. Shirley doubts her writing, with depression stealthily stealing her confidence. She's fiercely protective of her work, not trusting anyone to see it. Stanley is ableist about her mental illness. He's critical and controlling, pushing Shirley to give him drafts of her work. When she says she wants to write a novel, he's dismissive. Shirley and Stanley have a complex, contentious, yet conspiratorial relationship, evocative of "Who's Afraid of Virginia Woolf?" Yet, he's peculiarly supportive of her writing, pushing her to be better.

After reading "The Lottery," Rose is aroused, entranced by Shirley's intellect, talent, and boldness. The female gaze is prevalent as we watch Shirley and Rose gaze at each other. Screenwriter Sarah Gubbins is a queer woman, and the film explores queer themes. Shirley and Rose have a close, intimate friendship. They share stolen glances and intimately touch hands and feet, sensual moments where heteronormative conventions and societal rules fall away. For two women who lament not being seen, they see each other.

The theme of "lost girls" and "madness" reverberates throughout the film. Shirley passionately and painfully advocates for these "lost girls." Stanley compares Shirley to Lady MacBeth. Rose rebels against her role as a wife, saying it's "madness." While examining mental illness, the film makes a commentary on how society perceives and labels as unhinged rebellious, radical women who are unconventional and outspoken.

"Shirley" is a riveting exploration not only of the life of an incredibly talented writer with a unique voice, but also the oppressive confines of patriarchy.
Comments on Facebook