Review: 'The Collini Case' is a Taut, Intelligent and Wholly Engrossing Suspense Thriller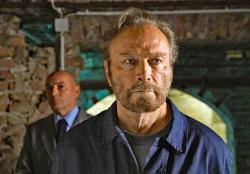 The opening moments of Marco Kreuzpaintner's engaging new film, "The Collini Case" ("Der Fall Collini") crosscuts two specific scenes. The first shows our protagonist, newly practicing attorney Caspar Leinen (Elyas M'Barek), working out alone in a boxing ring, punching at air. The second follows Fabrizio Collini (legendary actor Franco Nero) walking down a long hallway, then knocking on a door and entering the hotel suite of the wealthy and respected businessman, Hans Meyer (Manfred Zapatka), who thinks he's a journalist. Hans offers Collini a drink. Collini doesn't say a word. The next shot we see is of Collini's blood-stained shoes getting off an elevator and walking into the lobby. He sits. His face and clothes have blood on them. A hospitality worker asks if he needs help. He finally speaks: "He's dead. Presidential suite."

So begins this taut, intelligent and wholly engrossing suspense thriller, based on the best-selling German book by Ferdinand von Schirach (and inspired by true events from the novelist's life) with a riveting screenplay by Christian Zübert with Robert Gold and Jens-Frederik Otto.

It turns out Leinen is in for the fight of his young life as he is immediately appointed to defend the elusive Collini, who obviously meant to murder Meyer in a most grisly fashion. Collini refuses to divulge his motive. To complicate matters, the deceased Meyer was the grandfather of Leinen's two best friends growing up — including his childhood crush, Johanna (Alexandra Maria Lara) — and acted as a father figure to him. And to further muddy things, Leinen is up against his former criminal law professor, the highly respected lawyer Richard Mattinger (Heiner Lauterbach) who offers him a curious deal. Confused yet?

The elaborate twists and turns provide a great deal of the suspense but it is the deeply committed performances that make the film soar above and beyond your normal John Grisham or Dan Brown filmic adaptations.

M'Barek allows us into the conflicted heart of Leinen. Sure, he plays the type of character we have seen countless times onscreen — the novice attorney who must awaken to how the world works. But his portrayal goes beyond the obvious, adding a rich layer of doubt to the role. Lauterbach excels as a man lost in the corruption of a generation that needed to forget past atrocities in order to survive. Pia Stutzenstein impresses with the small role of Nina, a pizza delivery girl turned research assistant.

What gives "The Collini Case" its gravitas is the face and mere presence of Franco Nero. The Italian actor came to prominence playing Lancelot in the cinematic adaptation of the musical, "Camelot," in 1967, and has enjoyed a career that has spanned six decades and included work with Buñuel ("Tristana"), Fassbinder ("Querelle") and Tarantino ("Django Unchained"), to name a few. His role here requires little dialogue. Nero perfectly captures a man who has carried decades of crippling pain on his shoulders and is finally allowed to exhale.

I won't give away the big narrative reveal, although you will probably have pieced some of it together before the film's climax. Suffice to say unspeakable sins of the past come to light and the characters (and viewers) must weight themes of forgiveness and retribution.

Director Kreuzpaintner, who helmed the gay coming out comedies, "Summerstorm" (2004) and "Coming In" (2014), keeps things moving at a brisk enough pace.

One minor irritation: I would have appreciated more flashback moments so a deeper, nuanced depiction of Leinen's relationship with Meyer and his two grandchildren could have been explored.

What "The Collini Case" does remarkably well is to continue to probe how a country with a horrifically stained past deals with the horrors committed, or in many cases, attempts to excuse or ignore them.
Frank J. Avella is a film and theatre journalist and is thrilled to be writing for EDGE. He is also a proud Dramatists Guild member and a recipient of a 2018 Bogliasco Foundation Fellowship. He was awarded a 2015 Fellowship Award from the NJ State Council on the Arts, the 2016 Helene Wurlitzer Residency Grant and the Chesley/Bumbalo Foundation Playwright Award for his play Consent, which was also a 2012 semifinalist for the O'Neill. His play, Vatican Falls, took part in the 2017 Planet Connections Festivity and Frank was nominated for Outstanding Playwriting. Lured was a semifinalist for the 2018 O'Neill and received a 2018 Arch and Bruce Brown Foundation Grant. Lured will premiere in 2018 in NYC and 2019 in Rome, Italy. LuredThePlay.com
Comments on Facebook