Review: 'Pornstar Pandemic: The Guys' is Revealing and Intimate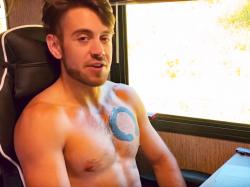 When the COVID-19 pandemic struck, shutting down everything from Broadway and Hollywood to pro sports and most everything else, adult film studios and their models were just as hard hit as any other industry. Famed director Edward James had the idea of reaching out to several stars to suggest they record and submit "day in the life" footage of what they're doing during the pandemic.
The models we see here — Jack Loft, Dante Colle, Pierce Paris, Elijah Wilde, and DeAngelo Jackson — represent a broad range of experience, with Loft — a newcomer — having only shot one scene professionally before the pandemic shuttered production, whereas Colle is a veteran of seven years' experience and Jackson has more than a decade in the business under his belt.
Loft starts the film, offering a tour of the house he's staying at — James' house — before jumping onto a video chat with producers Alex Lecomte and Alter Sin. Then, one by one, each other other guys has his chance; they take the idea of a "day in the life" seriously, with some of them taking the camera with them for their morning shower and most of them sharing their daily workout routines.
Colle shares his dietary tips — protein shakes and meal delivery service — while Paris introduces us to the two kittens he's fostering in the wake of the Los Angeles animal shelters closing down. Wilde, also a newcomer who started at the top, working with Chi Chi LaRue, takes a walk around an eerily empty New York City, while Jackson offers his tips on moisturizing and shows off his video game prowess (while clad in nearly-nonexistent underwear).
Each self-filmed "day in the life" segment is followed with a video chat with Loft, Lecomte, and Sin, and this is where the film really gels. The guys discuss everything from their coming out processes and sexuality (one has never had sex with women; one lost his virginity on camera; another "likes what [he] likes," and doesn't worry about labels; a third had the foresight to quarantine with a friend, and now, he says, he's having more sex than ever) to their financial situations (there's a lot of reliance on paid sites like OnlyFans) and how their families took the news that their sons are porn actors.
Documentaries don't usually come as raw as this one, with its unexpected moments of humor (a burned tongue on a cup of extra-hot coffee) and its inherently intimate feel. The guys are just as frank in the interview segments as they are when they're alone at home with their cameras. What results is a portrait — a mural, really — of professionals who, like so many others in America and around the world, have seen their careers put on hold.
Their jobs may have unusual requirements (Pierce offers this pro tip: "Fluff yourself for 45 minutes before you go on set") and fairly intimidating downsides (social media pressure, obsessive fans, trolls and haters), but when they talk about what they most miss and enjoy about their work, it's the human connection they talk about: The sexual connection of their professional gigs, as well as their interactions with well-meaning fans.
Asked to offer his advice to the relative newcomers in the room, Colle puts it plainly: "Treat this like a normal job. Be professional about it."
James, who steps in for a twenty-minute coda, reiterates this and adds: "Pay your fucking taxes."
In other words, there are real people behind those flickering fantasies. If you care to meet them, during this interval when film productions cannot go forward, they are happy to oblige. They're smart, warm, funny, and sometimes a little awkward — they're some of "The Guys" who are getting through these strange, difficult times along with everyone else.

"Pornstar Pandemic: The Guys" is available from Breaking Glass Pictures: https://www.bgpics.com/movies/pornstar-pandemic-the-guys/
Kilian Melloy serves as EDGE Media Network's Associate Arts Editor and Staff Contributor. His professional memberships include the National Lesbian & Gay Journalists Association, the Boston Online Film Critics Association, The Gay and Lesbian Entertainment Critics Association, and the Boston Theater Critics Association's Elliot Norton Awards Committee.
This story is part of our special report titled "Streaming Reviews." Want to read more? Here's the full list.
Comments on Facebook