Review: 'The Aerialist,' A Story about Schemes and Ambition, Soars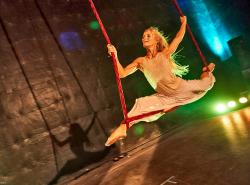 Gymnast, dancer, aerialist, and actress Dreya Weber has reunited with her ex-husband, the writer and director Ned Farr, to make this, their third movie together. "The Aeralist" is a sequel to their 2006 award-winning film "The Gymnast," which told the story of  the dancing and Vegas acrobatics afterlife of a former Olympic hopeful Jane Hawkins, played by Weber. 

In that movie, Jane was 43 years old and well past the average age of an acrobatic dancer. Now she is 56, and the wear and tear on her body has made much of her work excruciatingly painful — a fact she tries her best to hide from everyone else.

This new story, part melodrama and part thriller, sees Jane rejoin "The Family," a group of back-up dancers and aerialists, who, after 20 years together, are about to go on the very last tour as the support act of famous rock star Aurora (Monique Parent).  

When their longtime director withdraws due to sickness, Jane is put in charge. But the tour's scrupulous promoter (James L. Brewster) has other plans: He brings in Xavier (Kelly Marcus), who is a hot new choreographer, allegedly to spice the act up, but we soon find out that he and the promoter have ulterior motives.

As old and injured as she is, Jane is still an expert aerialist and the star of the show, and so it is inevitable that she and the pushy inexperienced Xavier are due for a battle royale.

All the goings on are witnessed by a young journalist (Morgan Bradley), who is tagging along to write a profile piece on Jane, insisting on digging deep into her past. It's through her investigations that we learn of Jane's broken marriage, her relationships with other female dancers, and how she managed to be able to afford the best trainer when she was working to earn a place in the Olympics.

It will, of course, all work out well for Jane and The Family in the end, albeit after several surprising plot twists along the way. But the drama is really not what this film is about; it's the sheer joy of seeing Weber's artistry, and her fearless performance as a truly stunning aeralist, that makes the piece so very watchable. 
Roger Walker-Dack, a passionate cinephile, is a freelance writer, critic and broadcaster and the author/editor of three blogs. He divides his time between Miami Beach and Provincetown.
Comments on Facebook