Downhill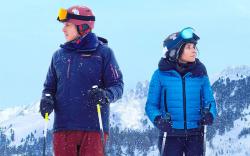 Available digitally today!

- - -

Is marriage a downhill proposition? It felt that way in "Marriage Story," which apparently disturbed many viewers with its insights about a marriage in free-fall; now comes "Downhill," a more incident-driven story of a marriage-in-crisis based on the lauded 2014 Swedish film "Force Majuere."

What causes the crisis is an accident: a forced avalanche at a posh Alpine ski resort sends a wall of snow that appears to engulf a mountainside restaurant where a bourgie American family (Will Ferrell, Julia Louis-Dreyfus) and their two kids (Julian Grey, Ammon Jacob Ford) are having lunch. At first the snow seems like an alpine optic — a spectacular special effect in real time. But as the snow comes closer, real danger seizes the family. At that moment, Billie (Louis-Dreyfus) huddles with her kids; but Pete (Farrell) flees with his cell phone. When the snow clears and all appears normal, he ignores his family's stunned expressions and orders soup for lunch.

Critical response to "Downhill" has largely been negative, especially when compared to its source. Not having seen the original, there is a sense of that something about this Americanized version that seems askew. (The direction is by Jim Rash and Nat Faxon, who co-wrote the script with Jesse Armstrong, from HBO's "Succession.") Is it the tone — an uneasy blend of comedy and drama? Is the critique of male responsibilities within the family unit that is undermined by miscasting? It wasn't at all surprising to see Will Farrell flee when the show engulfs them. Perhaps an actor like Daniel Craig or John Cena would have made Pete's behavior seem unexpected — a cowardly move by an alpha-male; but here, running away is what you expect a Will Ferrell character to do. An alpha-male he isn't.

Still Billie is confused, then angered by her husband's behavior, and the tension of the film's early part is waiting for her to explode at him. At first he dismisses the event, then, prodded by his wife, goes to report the event to the local authorities (a surly, dismissive Kristofer Hivju, a Swedish actor from the original film). The scene works, largely because of the Trump-ish authority of the Austrian official. "We're not in America, where you sue because your coffee's hot, madam," he says, dismissing them. But she seethes with questions — why did Pete run in a moment of great danger for his family? When she does let go, it is in an amazing sequence — the film's eleven-minute centerpiece, where she unloads on Pete in an awkward moment in front of an unsuspecting couple, Zach (Zach Woods) and Rosie (Zoe Chao). Her indictment (she is a lawyer) of her husband is devastating, and you wonder how their marriage — and the film — is going to survive it.

The film doesn't, falling upon rom-commish tropes to run its course; which is too bad because this riveting sequence shows the depth of Dreyfus's acting talent. She has long been the character we hated to love — Serena Meyer in "Veep"; not surprisingly, her Billie is far less self-absorbed — a caring mom to her sons and husband. He's grieving the death of his father eight months before and she's there to comfort him. Yet there is a sense that all is not right with their marriage even before the avalanche. She's controlling, he's distracted with his cellphone and his bromance with Zach, who is touring Europe with Rosie. You sense Pete envies Zach's freedom as he hides in the bathroom to text him. And why did he book his family into something close to a swinger's resort and not the nearby family-friendly one? Is he subliminally expressing his own yearnings to be without a family? Is his running away an expression of this? Yet none of this is explored. Instead, the Ibiza-like resort functions as a running joke thanks to a MILF-ish resort social director (Miranda Otto in a funny, oversized performance). What might have helped would be some sense of a physical relationship between Pete and Billie, and while Louis-Dreyfus and Ferrell fit well together, they have little physical chemistry.

Perhaps that's indicative of a marriage-on-the-rocks; but there's little here than an awkward attempt to join a sophisticated European film sensibility on an American genre picture. The film invites themes and issues that would have been better explored in a longer format — a miniseries perhaps would have given the couple the backstory they surely need. They are just sketchy here, playing off the vibes both actors bring to their roles rather than internally driven from the characters they play. The directing team seems to want it both ways — an edgy comedy about a frayed marriage and a Will Farrell movie about a goofy guy who never gets anything right. In the process, they get most everything wrong, which is too bad because Louis-Dreyfus deserves better.
Downhill
A woman starts to have second doubts about her husband after he runs away from an approaching avalanche, leaving her and their two sons behind.
Info
Runtime :: 85 mins
Release Date :: Feb 14, 2020
Language :: Silent
Country :: United States

Cast
Pete :: Will Ferrell
Billie :: Julia Louis-Dreyfus
Zach :: Zach Woods
Rosie :: Zoe Chao
Charlotte :: Miranda Otto
Finn Stanton :: Julian Grey
Emerson :: Ammon Ford
Michel :: Kristofer Hivju
Guglielmo :: Giulio Berruti
German Skier :: Nadiv Molcho

Crew
Director :: Nat Faxon
Director :: Jim Rash
Screenwriter :: Jesse Armstrong
Screenwriter :: Nat Faxon
Screenwriter :: Jim Rash
Producer :: Anthony Bregman
Producer :: Julia Louis-Dreyfus
Producer :: Stefanie Azpiazu
Executive Producer :: Erik Hemmendorff
Executive Producer :: Ruben Östlund
Cinematographer :: Danny Cohen
Film Editor :: Pamela Martin
Original Music :: Volker Bertelmann
Production Designer :: David Warren
Art Director :: Florian Reichmann
Costume Designer :: Kathleen Felix-Hager
Casting :: Jeanne McCarthy
Casting :: Nicole Abellera Hallman

Comments on Facebook