The Good Liar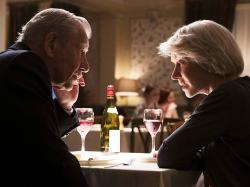 Available digitally today!
- - -
During the title sequence of "The Good Liar," a man and a woman fill out their profiles for a posh dating site (called Distinctive Dating) aimed at seniors. "Smoking?" asks the dating site. No, checks the man as he takes a drag on his cigarette. "Drinking?" No, responds the woman as she pours herself more wine.
Such fibs set the stage for Bill Condon's cunning mystery, adapted by Jeffrey Hatcher from Nicholas Searle's 2016 novel. Not long after the couple, Roy Courtnay (Ian McKellan) and Betty McLeish (Helen Mirren), meet for a date where he wants to make it clear: he can't stand deception and owns up that the name he has used on his profile isn't his; she admits she did the same thing.
They won't be the only mistruths the two keep from each other over a story that takes them to from London to Berlin and back in time. When the song "Where or When" turns up, it takes an ironic resonance. That may be a spoiler alert, but not really... it is doubtful that you will figure out the twists and turns that ensue in this seemingly innocent senior romance, which is a good thing. Despite being, at first, a slow burn, the film keeps you engaged and guessing, bolstered by two of the finest actors currently appearing in films.
That is no small deal. "The Good Liar" recalls Hitchcock's famous "icebox" moment — when after a film is over, a viewer ponders over plot inconsistencies that didn't occur while watching. (Hitchcock was speaking of a scene from "Vertigo.") There are a couple such instances here, but what makes the film work is that you will likely give in to its narrative and not catch them; one, though, that does stand out is the suspicion that Betty is a bit too sophisticated (despite her dull suburban world) to fall for Roy.
That could be because the audience is informed early on that Betty is a mark for Roy, who hopes to scam her out of her life savings. Roy is a charming, confident thief who specializes in such personal scams with his partner. With Betty it gets personal rather quickly: when a knee problem flares up, she invites Roy to recover in her suburban London home. He can't stand it ("beige" he call her world), but is energized when he learns just how much money she has.
In lesser hands, the story arc would likely be preposterous, but McKellan and Mirren draw you in to it, and you know there is going to be a twist. The fun of the film is that turns out to be a surprise that resonates in unexpected and relevant ways.
What makes the film work so well is not only how it makes the viewer empathize with Betty, but complicit with the crafty Roy. Early on there's a scene where he is dropped off at a hospital to see a sick friend. He gets out of a car (driven by Betty's suspicious grandson Steven [a fine Russell Tovey]) visibly limping and looking befuddled in his crumpled trench coat; a moment later he's seen leaving another entrance of the hospital impeccably dressed in a business suit as he struts to his latest meeting. Despite his devious ways, he's oddly endearing — a scoundrel who appears to exhilarate in the chase.
Roy's larcenous ways are only part of the story, which grows and becomes something else during its dramatic third act. The less said about that the better; but what makes getting there worth watching is the chemistry between McKellan and Mirren. He has charm and you understand why she falls for him; but when the twists occur, McKellan has a sinister gravity that makes it plausible. The same can be said in reverse of Mirren, who pulls off playing the decent, if naive widow quite adeptly... until she's not.
Condon keeps the focus on his two actors, dropping clues and some false leads along the way, which come together in the final sequence. He gives the film an elegant sheen and isn't afraid to allow it to unfold in a leisurely manner, focusing more on allowing his actors to shape their characters in ways that enhance the mystery. In the end the question is just who is the best liar, and (in the end) the answer is quite clear.
The Good Liar
Career con artist Roy Courtnay can hardly believe his luck when he meets well-to-do widow Betty McLeish online. As Betty opens her life and home to him, Roy is surprised to find himself caring about her, turning what should be a cut-and-dry swindle into the most treacherous tightrope walk of his life.
Info
Runtime :: 109 mins
Release Date :: Nov 15, 2019
Language :: Silent
Country :: United States

Cast
Betty McLeish :: Helen Mirren
Roy Courtnay :: Ian McKellen
Steven :: Russell Tovey
Vincent :: Jim Carter
Bryn :: Mark Jones
Young Roy :: Phil Dunster
Beni :: Lucian Msamati
Hans Taub :: Laurie Davidson
Michael :: Tunji Kasim
Hans Taub (1943) :: Spike White
Frau Schröder :: Stella Stocker
Young Lili :: Nell Williams
Herr Schröder :: Daniel Betts
Annalise :: Celine Buckens

Crew
Director :: Bill Condon
Screenwriter :: Jeffrey Hatcher
Producer :: Greg Yolen
Producer :: Bill Condon
Executive Producer :: Richard Brener
Executive Producer :: Andrea Johnston
Executive Producer :: Aaron Gilbert
Executive Producer :: Jason Cloth
Executive Producer :: Anjay Nagpal
Executive Producer :: Jack Morrissey
Cinematographer :: Tobias Schliessler
Film Editor :: Virginia Katz
Original Music :: Carter Burwell
Production Design :: John Stevenson
Costume Designer :: Keith Madden
Art Director :: Elaine Kusmishko
Set Decoration :: Tamsin Clarke
Casting :: Lucy Bevan

Comments on Facebook