Ashes In The Snow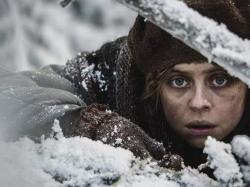 The full-length feature directorial debut by Marius A. Markevicius, "Ashes in the Snow," tells the story of Lina (Bel Powley), an artistically talented teenager living with her family in Lithuania in 1941 when the Russians invade annex her country for the Soviet Union. Like millions of others, Lina's family — including her mother, Elena (Lisa Loven Kongsli); and her younger brother, Jonas (Tom Sweet) — are swept up in a mass arrest carried out by the NKVD, the People's Commissariat for Internal Affairs, basically a police force that oversaw prisons and prison camps.

Lina's father, father, Kostas (Sam Hazeldine), a university professor, is not at home when the arrests take place; with no idea where he might be, the remainder of the family manage to stay together, but their prospects do not seem bright. A harrowing six-week journey in train car brings them to Siberia, and to a labor camp. There, they are offered a choice: Spend the rest of their lives working for the Russians, or sign a confession admitting to "treason" and get off with a lighter sentence of 25 years.

The camp's horrors will be familiar, from the selfish acts of certain fellow prisoners to the one guard — a half-Uranian man, in this case, named Nikolai (Martin Wallström) who has a soft spot for the beautiful Elena — who seems to have a conscience. The other prisoners are nondescript victims, while the rest of the Russians are pretty much monsters, including the sadistic commander of the camp, Komarov (Peter Franzén), whose solution to most problems is a bullet fired into someone's head. When Lina and her family find themselves in a still more perilous situation, the conflicted Nikolai might be the only thing between them and certain death.

"Ashes in the Snow" is written by Ben York Jones and based on the novel "Between Shades of Gray" by Ruta Sepetys, but as a film it has a curiously generic feel about it, such that from time to time you might be unsure just which 20th Century atrocity is being depicted. There are shades of the Armenian genocide, and more than a passing resemblance — especially in the transport, by train, of masses of people and the callous, methodic ways in which the victims are terrorized, humiliated, enslaved, and murdered — to the Holocaust.

More generic still is Lina's unflinching courage in the face of desperate danger — and Elena's, as well — and a love story that unfolds at the Siberian labor camp between Lina and a young man named Andrius (Jonah Hauer-King), all of which feels like it falls short of early suggestions about what it will mean for the young artist to forage for pencil and paper in order to set down, in imagery, the horrific sights she's bound to witness. But the film seems to lose focus, and to stagger along from episode to episode, never drawing its through-lines taut. There's even an unlikely happy ending — a relief, after all that's come before, but also a false note that stands at odds with the rest of the film.

Movies like this one are inevitable in times of great existential uncertainty, and a necessary expression of remembrance and defiance. We need heroes like Lina in order to remember both the frailty of freedom and the strength of human will, whether it's applied to good ends or to evil. But if we're going to be asked to eat our spinach at the movie, it would help if there was more of substance than a checklist of genre plot points to sustain the film, and us.

That said, there are a number of strong performances here, especially from Kong's and Powley, and one also appreciates how Markevicius has taken an international cast — with actors from Finland, Norway, and Britain — and made them all feel like they belong in the same film. Powley in particular has a certain power of gaze, which fits: As an artist, Lina says, "I draw what I see," and one of the movie's most powerful moments comes about when Commander Komarov, alerted to her skill as an artist, demands that she sketch his portrait. The way Lina sees Komarov has a sting of truth and ruthlessness that matches his own sociopathic streak. One wonders what sort of psychological thriller might have merged had the film found a way to pit these two more directly, and constantly, against one another.
Kilian Melloy serves as EDGE Media Network's Associate Arts Editor and Staff Contributor. His professional memberships include the National Lesbian & Gay Journalists Association, the Boston Online Film Critics Association, The Gay and Lesbian Entertainment Critics Association, and the Boston Theater Critics Association's Elliot Norton Awards Committee.
Comments on Facebook