Captain America: Civil War
Proving to be the better of the franchises within the Marvel universe, "Captain America: Civil War" doesn't quite hit the highs of "The Winter Soldier," but it still gives us slam-bang, thought-provoking, adult entertainment.

Maybe it's the absence of the sillier Avengers Thor and Hulk, but something about Captain America heading the team makes it all go down easier than when a green monster or a Norse God alien are hanging around. Because let's face it, the movie might be called "Captain America" colon "whatever," but it's still essentially an "'Avengers" movie; it's just that Cap proves to be the catalyst that sets things in motion.

Those "things" are a war between the Avengers that divides the crew before things get muddy. Not to mention, the film adds more superheroes to the fight. You see, after all of their adventures together, they've managed to decimate a lot of property... and lives, most recently in Lagos, where, in an attempt to save a fellow Avenger, the Scarlet Witch (Elizabeth Olsen) accidentally kills many innocent bystanders.

This creates a problem with not only the U.S. government, but also many other countries. A deal is made at the U.N. that the Avengers should sign an agreement that puts a special task force of the U.N. in control over what the Avengers do. Cap (Chris Evans) isn't really fond of the idea, while Tony "Iron Man" Stark (Robert Downey, Jr.) is in agreement. Black Widow (Scarlett Johansson) is, too, not to mention War Machine (Don Cheadle) and Vision (Paul Bettany). Falcon (Anthony Mackie) is the only one that seems to be on Cap's side, but even he seems to be doing it somewhat reluctantly.

Things get more complicated when the signing of the treaty goes tragically awry and many are killed at the hands of Bucky Barnes, aka The Winter Soldier (Sebastian Stan). Knowing Bucky's not all bad, Cap tries to protect him, but alas, he is captured and an inquisition is begun to find out why he's killing innocent people and for whom he's working. The truth isn't easily explained, but it will start to break down the Avengers even more, not to mention affecting new additions to the group, including Black Panther (Chadwick Boseman), Ant-Man (Paul Rudd), and Spider-Man (Tom Holland). All will team up and face off while trying to protect Barnes and/or destroy him. Meanwhile, they will start to destroy themselves. Hence, the civil war.

Running at almost two and a half hours long, "Civil War" is a bit long, and some of the debates about what the right thing to do is can be endless. While there is a lot of fun superhero action, the script by Christopher Marcus and Stephen McFeely brings up a basic, yet interesting moral dilemma: Just who is responsible for the Avengers, and can they be responsible for themselves? Is preserving a few worth the lives of the many? While we don't get clear-cut answers and the debate is fairly on the surface, it does present something to chew on.

Granted, DC's "Batman v Superman" just presented a similar conundrum, but did so in a more self-absorbed way. Superman and Batman made the while thing about themselves, where the Avengers are at least thinking about other people... except when they are slamming each other into airplanes or pavement, that is.

The action scenes as directed by Joe and Anthony Russo are spectacular, both in how realistic they look and how kinetically charged they are. These are fun, intense, and expertly choreographed sequences that feel more action/thriller than cartoony. And that's a good thing. They know how to make a good-looking movie, they know how to take their subject seriously, and they know when to lighten the mood just enough to remind us to not take it all that seriously.

As for the actors, everyone is clearly comfortable with their parts, and there isn't far for them to stray. Some of the Avengers show up for only one or two scenes so there isn't much time for them to do anything meaty, but Holland as Spidey and Rudd as Ant-Man make their appearances memorable. (Sure, Spider-Man feels sort of shoehorned in so that audiences will get excited about yet another reboot, but the reaction was clearly positive. So "phew" for that decision.) Boseman's Black Panther is another nice addition to the crew, and it's clear Marvel is setting up his own spin-off film. That'll be one to line up for.

All in all, the "Captain America" movies have gone a little darker than the Thors, Iron Mans, and Ant-Mans of the Marvel universe, but that's not a bad thing. The Russos haven't created a film that is so bloatedly self-important that Christopher Nolan's shadow starts to creep over the set. Instead, they treat their subject and their audience with - dare I say - civility. Let's hope they do the same for the next two "Avengers" films.
Captain America: Civil War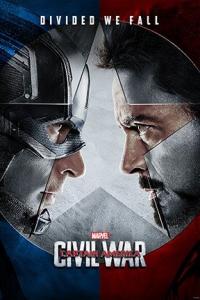 Political pressure mounts to install a system of accountability when the actions of the Avengers lead to collateral damage. The new status quo deeply divides members of the team. Captain America (Chris Evans) believes superheroes should remain free to defend humanity without government interference. Iron Man (Robert Downey) sharply disagrees and supports oversight. As the debate escalates into an all-out feud, Black Widow (Scarlett Johansson) and Hawkeye (Jeremy Renner) must pick a side.
Info
Runtime :: 146 mins
Release Date :: May 06, 2016
Language :: Silent
Country :: United States

Cast
Steve Rogers/Captain America :: Chris Evans
Tony Stark/Iron Man :: Robert Downey
Natasha Romanoff/Black Widow :: Scarlett Johansson
Bucky Barnes/Winter Soldier :: Sebastian Stan
Sam Wilson/Falcon :: Anthony Mackie
James Rhodes/War Machine :: Don Cheadle
Clint Barton/Hawkeye :: Jeremy Renner
Vision :: Paul Bettany
Wanda Maximoff/Scarlet Witch :: Elizabeth Olsen
Scott Lang/Ant-Man :: Paul Rudd
Sharon Carter/Agent 13 :: Emily VanCamp
Peter Parker/Spider-Man :: Tom Holland
Brock Rumlow/Crossbones :: Frank Grillo
General Thaddeus ``Thunderbolt' Ross :: William Hurt
Baron Zemo :: Daniel Brühl
Everett Ross :: Martin Freeman
Miriam :: Alfre Woodard
M.I.T. Liaison :: Jim Rash

Crew
Director :: Anthony Russo
Director :: Joe Russo
Screenwriter :: Christopher Markus
Screenwriter :: Stephen McFeely
Producer :: Kevin Feige
Executive Producer :: Victoria Alonso
Executive Producer :: Patricia Whitcher
Executive Producer :: Nate Moore
Executive Producer :: Stan Lee
Cinematographer :: Trent Opaloch
Film Editor :: Jeffrey Ford
Film Editor :: Matthew Schmidt
Original Music :: Henry Jackman
Production Design :: Owen Paterson
Supervising Art Direction :: Greg Berry
Art Direction :: David Scott
Art Direction :: Greg Hooper
Set Decoration :: Ronald Reiss
Costume Designer :: Judianna Makovsky
Casting :: Sarah Finn

Kevin Taft is a screenwriter/critic living in Los Angeles with an unnatural attachment to 'Star Wars' and the desire to be adopted by Steven Spielberg.
Comments on Facebook