Toy Story 3
Guess what: Woody and Buzz Lightyear have been with us for fifteen years. For those of you who can't remember when that space of time seemed eternal, that's the time differential between a five-year-old making his own Woody and Buzz adventures on the basement floor of his parents' home and his penultimate year in college. Those toys he played with were likely scrapped along the way, trashed and dismembered like most toys are - and in fact, that unfortunate truism about our playthings informed "Toy Story 2" and lies at the emotional heart of "Toy Story 3." We grow up and put away childish things.

But that boy who played on the floor with Buzz and Woody? I bet he'll run right out to see this latest chapter of Pixar's most beloved franchise - because, ultimately, how we idolize pop culture via toys in our youth frames our fantasies throughout our adult lives. We are, ultimately, a race of wide-eyed innocents attempting to make sense of our emotional attachments to the world - and watching 3-D toys come to terms with their own ephemerality helps us remember the days when we could openly face the world, and its more unfortunate realities such as war and BP oil spills, with a child's insular outlook on time.

The major characters are all back: Woody (Tom Hanks) and Buzz (Tim Allen), joined by regulars Potatoheads (Don Rickle and Estelle Harris), Jessie (Joan Cusack), Rex (Wallace Shawn), Hamm (John Ratzerberger), are facing extinction thanks to the imminent college days of their owner Andy (John Morris). He's all grown up and has limited use for toys, although he clearly still looks on his old playpals fondly. During a packing mixup, the group is sent inadvertently to Sunnyside Daycare Center, where an oversized purple Lots'-o'-Huggin' bear overlord (Ned Beatty) welcomes them with a big smile and a soft paw. It seems to be the perfect place for our out-of-sorts crew: there's no shortage of youngsters who want to play with toys. Barbie (Jodi Benson) even finds a counterpart in Ken (Michael Keaton), who dotes on her platonically in between admiring himself and playing dress-up with his surfeit of fabulous clothes from the comfort of his play mansion (just her luck, she found a gay boy to love).

Unfortunately, Sunnyside belies its name, and when its more sinister realities surface, Andy's pals are ripe for a prison-break. This leads to hysterical cinematic parallels, action-adventure and an emotional conclusion.

As we've come to expect from Pixar, the animation is first-rate, and in Toy Story's first 3-D romp, technology that's both subtle and charming. The plot, penned by John Lasseter, Andrew Stanton and director Lee Unkrich, is novel and heartfelt. And both drawn and vocal performances from the experienced team behind the scenes lend the picture an uncannily strong emotional weight. It starts lackadaisically enough - Toy Story fans might wonder in the first third of the film if the franchise has lost its ability to wow them - but slowly evolves into the most satisfying of the three pictures, viscerally if not comically. It's the reverse of "Up," delivering its pragmatic punches in the beginning of the picture, and saves its heartbreakingly honest reflection on love and happiness for its final half hour. That's a progression worthy of these toys, and of Pixar - and it will leave audiences both re-enchanted with Andy's toy-family and mesmerized by how Pixar's animation can once again teach us about the human heart in an entertaining, magical way.
Toy Story 3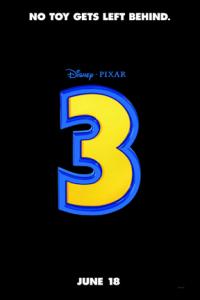 Info
Runtime :: 108 mins
Release Date :: Jun 18, 2010
Language :: English
Country :: United States

David Foucher is the CEO of the EDGE Media Network and Pride Labs LLC, is a member of the National Lesbian & Gay Journalist Association, and is accredited with the Online Society of Film Critics. David lives with his daughter in Dedham MA.
Comments on Facebook