Top Story
UK's Channel Four released a first-look trailer and a still from Russell T. Davies' new series "It's A Sin."
Crystal, one of the contestants from the first season of "RuPaul's Drag Race UK," premiered a new podcast where she explores with her guests the things that make them queer.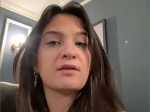 The very public battle between Kellyanne Conway and her 16-year old daughter Claudia came to a head this week.
All eleven seasons of "Modern Family" will be available next month on both Disney's Hulu and NBCUniversal's Peacock in what appears to be a unique and unusual deal.
On Monday, the "Dallas Buyers Club" star recalled to Jimmy Fallon what it was like entering into the thick of the COVID-19 pandemic.
The teen abortion drama "Never Rarely Sometimes Always" landed a leading seven nominations, Chadwick Boseman was posthumously nominated and women dominated the best director category in the Film Independent Spirit Awards nominations announced Tuesday.