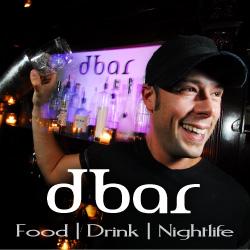 dbar
1236 Dorchester Avenue
Dorchester Massachusetts 02125

Description
dbar, A full service restaurant with an interesting and classy seasonal menu 7 nights a week, seamlessly transforms into a nightclub & lounge after 10pm. dbar has been renovated into a hip chic hot spot filling the void to the changing demographics Dorchester neighborhood of Boston & drawing clientele from surrounding areas.

From espresso martinis, to a fine glass or Bordeaux, dbar will cater to all. The eclectic martini list will excite and gratify while the affordable 200 bottle wine selection will far exceed all the rest in Dorchester. Your eyes and ears will be stimulated from the changing lights and attractive staff, to a pumping sound system with the latest and greatest live music. There is a place to go in Dorchester with a free parking lot and NO cover!

Tuesdays: Show Tune Tuesday with VJ Rompy 9pm-2am
Thursdays: Team Trivia 10pm - 12 Midnight
Fridays: Hot Dance Video 10pm-2am
Saturdays: House Dance Club Music with Dj Jay Ine 10pm-2am

Come and indulge yourself, surrender to you innermost desires at dbar!