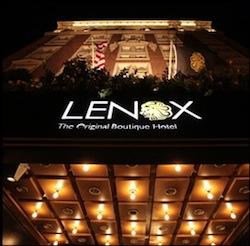 The Lenox Hotel
61 Exeter Street
Boston Massachusetts 02116

Description
It's hard to put into words, but when you choose the Lenox, you're not just making a reservation. You're making history.

Located in Boston's historic Back Bay, Lenox Hotel has been enchanting guests from around the globe since 1900. They, maybe you, are as much a part of Lenox's rich narrative as the gold-gilded dome that's hovered over our history for over a century. So, stay with us. We promise you'll not only leave with a piece of Boston's rich history but with a feeling that you can see why The Babe hung out here. Or why Duke Ellington composed here. Or, why so many guests call us their home away from home. For an overnight or a fortnight -- time at the Lenox is time well spent.

Representing the very best of what Boston hotels have to offer, Lenox Hotel delivers an artful blend of historically elegant design, seamlessly intuitive service and personalized comfort.

Located in the heart of Copley Square, this Back Bay boutique hotel is just steps from Boston's celebrated cultural institutions, world-renowned shopping, dining and nightlife destinations and, of course, America's most treasured landmarks. Our guest rooms also feature a dedicated work area with full writing desk and ergonomic chair. Many of our spacious corner rooms offer magnificent views of the Charles River and working fireplaces - an exclusive feature in all of Boston luxury hotels.