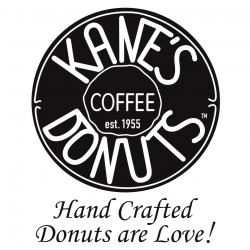 Kane's Donuts
120 Lincoln Ave
Saugus Massachusetts 01906

Description
It started in 1955...a classic New England town's love affair with a homemade donut so delicious that 50 year loyalists deem it their go-to-spot for launching their day, while destination diners plan vacations around their visits.

Yes, 1955 was the year Kane's Donuts opened its doors to residents of Saugus, Mass., a blue-collar community outside Boston's city limits.

Today, amid a sea of sameness from donut shops and breakfast joints, Kane's Donuts is a Massachusetts icon with a steadfast tradition of serving donuts prepared fresh daily and made with local ingredients — even the boxes are made locally!

Rescued from going the corporate route by Peter and Kay Delios during the 1980's, they brought back the shop's great local reputation using Peter's recipes and vast knowledge from being the former co-owners of the iconic Mrs. Fosters Donut Shop of Lynn (Est. 1933).

In 2007 Peter and Kay decided to pass Kane's Donut Shop onto their children. Today their legacy continues with the five siblings propelling the shop's nationally recognized success and at the same time teaching the next generation about the history and love that goes into making those satisfying, single-serving guilty pleasures commonly known as DONUTS.

People call Kane's Donuts quaint with its coastal colors, local artwork, and family-friendly atmosphere. The use of fresh and local ingredients is what takes Peter's old world recipes to a new level. Our quality donuts speak for themselves: from television to print, our award- winning donuts have landed Kane's Donuts on the national "Top-10 Best Of" lists honoring the finest in our specialty's genre.

Pick up a regular donut and all you see is a hole. Look through the hole of a Kanes donut and you'll see a legacy of authenticity. Spiced — Sprinkled — Frosted — Glazed — Pillowy — Creamy — Gooey — Refined — Decadent — DELICIOUS.

Since donut eating needs no reason, come taste our legacy. Visit us at either of our locations or both! 120 Lincoln Avenue, Saugus MA and Two International Place, 90 Oliver St., Boston MA.