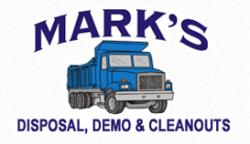 Mark's Disposal, Demo & Cleanouts
Boston Massachusetts

Description
Mark's Disposal strives to transform what is considered the "dirtiest part" of a renovation project into the cleanest, easiest, and least disturbing process as possible. While other demolition companies may require occupants to vacate the premises while they were working on your property, Mark's Disposal will work alongside your everyday life with the least disturbance as possible.

Mark's Disposal values great attention to detail, and is always careful while performing any type of service for you and/or your company. Our crew is efficient and well-dressed, always in uniform and protective equipment, and will accommodate your most specific requirements. Service quality is important to Mark's Disposal, and we are always looking for ways to exceed your expectations.

Our vision is to harness lofty ambitions to expand and grow to better service our community. We want to change the way you think of demolition and disposal by creating a painless, efficient process for you and your community. We will accommodate your most specific needs and wants to create the preferred service in your household.