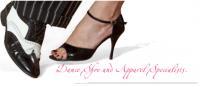 Teddy Shoes
Theatrical and Alternative Lifestyles Welcome, Sizes to 16 and the Dance Experts.
548 Massachusetts Avenue
Cambridge Massachusetts 02139

Description
We pride ourselves on making life-long customers by insuring proper shoe fit, treating everyone with friendly, attentive service and striving hard to achieve complete customer satisfaction.
Whether it be stretching a dance shoe, giving away a free set of cushion insoles or keeping all stocked items on hand at all times, our shoppers know that their experience will be an enjoyable, fruitful one. We are a family owned business that began in 1957.
We've become well known for our vast selection of dancing supplies, hats, men's dress shoes, casual shoes and sneakers, children's and infant's shoes as well as women's shoes, boots, dyeables and wide widths. We also sell women's high heels and large sizes (up to size 16).