Gay Boston: The Latest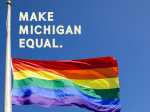 The Michigan elections board on Monday declined to certify an LGBTQ-rights ballot drive after determining it did not submit enough valid voter signatures.
The signs and banners are dotted along suburban commercial strips and hanging in shop windows and restaurants, evidence of a new desperation among America's service-industry employers: "Now Hiring, $15 an hour."
Simone Biles arrived in Tokyo as the star of the U.S. Olympic movement and perhaps the Games themselves. She convinced herself she was prepared for the pressure. That she was ready to carry the burden of outsized expectations.
Author Charles Casillo talks about the turbulent, life-changing relationship he explores in his new book about two of Hollywood's most beautiful stars — Elizabeth Taylor and Montgomery Clift.
The Centers for Disease Control and Prevention announced new recommendations that vaccinated people return to wearing masks indoors in parts of the U.S. where the coronavirus is surging.
After being seen holding hands in New York last month, Tommy Dorfman and Lucas Hedges were seen cuddling at a movie in Hollywood last Thursday.
There may be new hope on the horizon for bringing the AIDS epidemic to a close: The Ending the HIV Epidemic in the U.S. (EHE) initiative, launched in 2019, takes a locality-based approach.
In what may be the first move for LGBTQ businesses in Boston, Jacques' Cabaret — a popular nightclub that caters to drag performers — announced that it has made changes to its COVID-19 protocols, which requires proof of vaccination.
After making homophobic and AIDS-ignorant remarks at a music festival in Miami Sunday, rapper DaBaby doubled down on his offensive rant, calling critics "bitter bitches."
Country recording artist and songwriter Orville Peck has announced his "Drive Me, Crazy" tour, kicking off at Nashville Pride and concluding with back-to-back performances supporting Harry Styles at Madison Square Garden.
The Biden administration has announced that almost all health insurers must cover the HIV prevention pill, known as PrEP, or pre-exposure prophylaxis, with no cost sharing — including for the drug itself and, crucially, for clinic visits and lab tests.
Multiple Grammy nominee (and 2021 winner) Ledisi took control of the Hollywood Bowl stage on Saturday night to perform selections from her new album, "Ledisi Sings Nina," and honor the legendary Nina Simone.
Of the 2 million people clogging airport security lines and gate areas again each day, one crowd is still largely missing: business travelers.
The average number of tech devices per household has steadily increased, jumping to an average of 25 devices per household, according to one source. But why has this increase occurred?
Most advice about retirement planning focuses on how to save enough money to replace your paycheck. But work provides us with a lot more than income.
Tesla's quarterly profit has surpassed $1 billion for the first time thanks to the electric car pioneer's ability to navigate through a pandemic-driven computer chip shortage.
Celebrity chef Mario Batali, his business partner and their New York City restaurant company have agreed to pay $600,000 to resolve a four-year investigation.
The Department of Veterans Affairs on Monday became the first major federal agency to require health care workers to get COVID-19 vaccines, as the aggressive delta variant spreads.

A gay Cuban American journalist returns to his childhood home of Miami to explore Little Havana's legacy and the impact of queer Cuban culture.
Happy Dark Productions set sail on the San Diego Bay for their annual San Diego Pride closing party. Everyone danced the day and night away before headliner Todrick Hall closed out the night.