1 thru 10 of 4281 Stories
At the restart of the season at Walt Disney World, the dress code has been relaxed to allow polos, slacks, even sneakers — and coaches are thankful.
The loosely organized far-right, pro-gun, anti-government libertarians are gaining notoriety not for being linked to domestic acts of terrorism in the United States, but for their penchant for Hawaiian shirts.
Lim Yeon-hee, the chief organizer of the Seoul fashion show, said she hoped to create a cheerful vibe after the nation went through months of grueling anti-virus campaigns.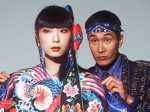 Japanese fashion designer Kansai Yamamoto, known for his avant-garde and colorful work that included flamboyant costumes of the late rock icon David Bowie, has died of leukemia.
Iconic filmmaker and cultural icon John Waters has a new gig as the face of Saint Laurent's 2020 menswear collection.
Dressed in a canary yellow outfit, the 79-year-old designer led protesters who chanted "Free Julian Assange" outside London's Central Criminal Court.
The CEO of the parent company of Kate Spade, Stuart Weitzman and Coach fashion brands resigned Tuesday citing allegations of misconduct by a woman with whom he had a relationship more than a decade ago.
Whether you're sitting on the couch with a pint of ice cream or taking a socially distant walk in the neighborhood, there's no reason why you shouldn't amp up your style with a floral print.
Ermengildo Zegna's so-called Phygital presentation was a hybrid of physical and digital experiences that could be the harbinger for runway shows to come for the brand celebrating 110 years.
Male fashion model Pietro Boselli, once known as the world's hottest math teacher, is gracing the cover of GQ Italia, where he's being compared with Michelangelo's David.
1 thru 10 of 4281 Stories