Top Story
The Supreme Court ruled Monday that a landmark civil rights law protects gay and lesbian people from discrimination in employment, a resounding victory for LGBT rights from a conse...
1 thru 10 of 54999 Stories
Texas today resembles the state in the early days of the coronavirus pandemic. Except now, the outbreak is far worse.
Three officers were fired Friday over photos showing police reenact a chokehold used on Elijah McClain, a 23-year-old Black man who died last year after police stopped him on the street in a Denver suburb.
In his push to get schools and colleges to reopen this fall, President Donald Trump is again taking aim at their finances, this time threatening their tax-exempt status.
More than perhaps any president in modern history, Trump has been willing to ignore, defy and toy with the legislative branch, asserting power and breaking norms in ways his predecessors would hardly dare.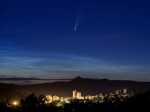 A newly discovered comet is streaking past Earth, providing a stunning nighttime show after buzzing the sun and expanding its tail.
President Donald Trump is postponing his planned rally Saturday in New Hampshire, the White House said, citing a tropical storm threatening parts of the mid-Atlantic and southern New England.
Luxembourg's prime minister is criticizing the Polish president's campaign against LGBT rights in the run-up to a closely fought runoff election this weekend.
Out actor and "Modern Family" star Jesse Tyler Ferguson played a gay dad on the popular TV series. Now and his husband, Justin Mikita, have become fathers in real life.
Democrat Joe Biden turned his campaign against President Donald Trump toward the economy Thursday, introducing a New Deal-like economic agenda.
A COVID-19 vaccine will have an actual price tag. And given the prevailing business-centric model of American drug pricing, it could well be budget breaking, perhaps making it unavailable to many.
1 thru 10 of 54999 Stories