Gay Boston: The Latest
Boston, MA
The Provincetown International Film Festival (PIFF) has announced its complete lineup of narrative, documentary and short films for "Provincetown Reimagined," presented by WarnerMedia.
Three officers were fired Friday over photos showing police reenact a chokehold used on Elijah McClain, a 23-year-old Black man who died last year after police stopped him on the street in a Denver suburb.
In his push to get schools and colleges to reopen this fall, President Donald Trump is again taking aim at their finances, this time threatening their tax-exempt status.
More than perhaps any president in modern history, Trump has been willing to ignore, defy and toy with the legislative branch, asserting power and breaking norms in ways his predecessors would hardly dare.
Singer Anita White, who was sued by a country group over the use of the name Lady A, says the group is using their white privilege against her.
With their marriage under social-media scrutiny, Jada Pinkett Smith and Will Smith reaffirmed their commitment to each other as Pinkett Smith admitted to having a relationship with musician August Alsina when she and Smith were separated.
Paul Olima is one of the fastest-growing fitness personalities in the UK. Check out his principles of time-under-tension, eccentric loading and continuous tension for a muscle-building at-home workout.
The Dixie Chicks are no more. Breaking their ties to the South, The Chicks are stepping into a new chapter in their storied career with their first new music in 14 years.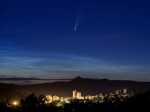 A newly discovered comet is streaking past Earth, providing a stunning nighttime show after buzzing the sun and expanding its tail.
President Donald Trump is postponing his planned rally Saturday in New Hampshire, the White House said, citing a tropical storm threatening parts of the mid-Atlantic and southern New England.
Katy Perry is sharing her new single "Smile," the title track from her forthcoming fifth album and to celebrate where sharing the pop star's 10 best songs from her career.
Luxembourg's prime minister is criticizing the Polish president's campaign against LGBT rights in the run-up to a closely fought runoff election this weekend.
Boston, MA
The Provincetown International Film Festival (PIFF) has announced "Provincetown Reimagined," presented by WarnerMedia, a modified festival with drive-in and virtual screenings running July 16-19, 2020.
Home entertainment has just gotten a facelift thanks to Philo, an easy-to-use and affordable package of TV channels to stream live or watch on-demand.
The coronavirus pandemic has been a rollercoaster for state lotteries across the country, with some getting a boost from the economic downturn and others scrambling to make up for revenue shortfalls.
The initial internal email told employees to delete TikTok, a video app increasingly popular with young people but also the focus of intensifying national-security and geopolitical concerns.
The new rule permits employers and insurers not to apply drug company copayment assistance toward enrollees' deductibles and out-of-pocket maximums for any drug.
Mercedes-Benz will recall more than 660,000 vehicles in China later this year for a possible oil leak.

Nobody could have dreamt months ago that the entire fashion industry would need to completely pivot to share their collections with the world. But that's precisely what they did.
Australian singer-songwriter Cody Simpson shows us the swimming-inspired upper body, leg and core workout he's been using to stay in shape at home.
This summer, it's the unique and necessary parade of masks down Commercial Street instead of drag queens that may steal the show. But Provincetown has weathered many a storm over its 293-year history.
San Francisco supervisors Thursday will take up proposed changes to how the city governs adult sex venues.