Gay Boston: The Latest
President Donald Trump's demand that the U.S. government get a cut from a potential Microsoft purchase of TikTok is the latest unprecedented scenario in an unprecedented situation.
A massive explosion rocked downtown Beirut on Tuesday, flattening much of the port, damaging buildings and blowing out windows and doors as a giant mushroom cloud rose above the capital.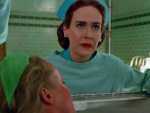 Netflix is sharing the first trailer for its upcoming Ryan Murphy series "Ratched," starring Sarah Paulson as the titular Nurse Mildred Ratched in the "One Flew Over the Cuckoo's Nest" prequel.
Kanye West withdrew his petition to appear as a presidential candidate on New Jersey's ballot, according to an email chain between a judge and what appears to be the rapper's campaign email address.
A sign displayed by a Pennsylvania grocery store contained fallacious claims about COVID-19 and anti-gay rhetoric, sparking a rally in support of the LGBTQ community.
Tens of thousands of fans around the world "Zoomed In" to watch sensational striptease when the first-ever digital edition of Broadway Bares streamed August 1, 2020, and raised $596,504 for Broadway Cares/Equity Fights AIDS.
Twitter users can't contain themselves after "Game of Thrones" star Kit Harington was spotted...adjusting his pants in London this week.
Out actor Kevin McHale thought he had given his boyfriend, actor Austin McKenzie, COVID, but it turned out to be a bad case of salmonella.
Swedish pop star Darin Zanyar has come out as gay in a Pride greeting posted to Instagram.
Ellen DeGeneres plans on returning to television later this month as her producers promise staff better work environment, while former staffers label her 'Talk Show Karen.'
Political neophyte Albert Chester has issued apologies in the wake of old social media posts that called marriage equality a "proud stand for unnatural lusts and desires," among other anti-LGTBQ statements.
Boston, MA
SpeakEasy Stage Company has returned with a new Play Discussion Club series, this time centered around "Celebrating the Black Narrative." Curator and moderator Crystin Gilmore tells EDGE about the series.
"Swallow," Carlo Mirabella-Davis' powerful feminist film about control and bodily autonomy, is now available on Blu-ray from Scream Factory and IFC Midnight.
The Stoli Key West Cocktail Classic may be on hiatus, but its impact on the LGBTQ community is in full swing.

Earlier this year, Grindr introduced a new feature that allows users to talk about all kinds of topics. But dick pics prevail in the "Circle" channels.
Numerous insurers across the country have announced plans to hike rates next year, though some have proposed cuts.
There are now 26,000 electric vehicle charging stations open to the public in the U.S., with more than 84,000 plugs. But the country, and the world, will need thousands more.
If you're starting to find your hair quite a bit of a chore and want to adopt a low-maintenance hairstyle, this guide is exactly for you.
Fitness expert Maddie Lymburner offers an easy-to-follow workout for a part of the body that we usually ignore during workout sessions. Don't forget your back!
Health authorities fear the ship could have infected dozens of towns and villages along Norway's western coast.
Fire Island remains one of the major summer destinations as the place to relax and party during summer. But this year public events are out, officially at least. Here's a look back at some of them - from drag flotillas to beach parties.