The Crucible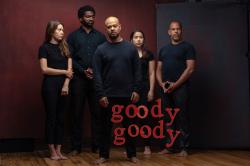 Arthur Miller's "The Crucible" is often dismissed as a lesser work that belongs in the domain of high school and collegiate productions. Yet when truly examined, it deserves its place alongside "Death of a Salesman" and "A View from the Bridge" as one of the great American plays of the 20th century. It is a work that, regardless of when or where it is performed, somehow manages to always reflect some aspect of America.
Originally an allegory of McCarthyism, this telling of the 1692 Salem Witch Trials has come to be a work that reflects any number of societal fears — be they seen or unseen. Multiple periods of American postwar paranoia can be reflected in Miller's text. Today's era of political theatrics and scapegoating is no exception.
From the first claustrophobic scene, the current production at Nora Theater Company created in conjunction with the acclaimed New York troupe Bedlam fits easily into this lineage. McCarthy's red scare may have been over 65 years ago, but America has clearly not learned much from it.
There are no pilgrim hats in this production. Set against Lindsey Genevieve Fouri's backdrop of institutional green and clad in Elizabeth Rocha's q950s inspired costumes, director Eric Tucker straddles the line of respecting the world in which the work was created while updating aspects to underline the timelessness of the text.
And it is rare that a production so fully embraces the ultimate collapse of Salem society as Tucker does here. It is a chilling reminder of what can happen when we let irrational fears guide us as a nation.
As with past Bedlam productions, he has assembled a tight and talented multi-cultural cast where several members take on multiple roles without ever missing a beat or the clarity of the plot. Every choice Tucker makes is to illuminate some aspect of the text.
As the instigator of events, Truett Felt is a fascinating Abigail Williams. At one moment, she exudes an innocence that begs you for protection, and then without notice, her dark and vindictive side roars out of her. But what makes Felt's Abigail enthralling is that there is clearly intent behind her mercurial nature. Yet what is that intent? Simple jealousy? A need for attention? Revenge? Is she a survivor of repeated abuse? Regardless, you never know which Abigail to believe and so are forced into the uncomfortable role of choosing.
Ryan Quinn as the moral center of the town, John Proctor, is wonderfully flawed. On the surface, he is a good and moral man. A hardworking farmer that keeps his head down and does his best to supply for his family. But you cannot ignore that he had an affair with Abigail, a mere girl. It is a truth that seems to be consuming him. Quinn's Proctor is not a paragon. He is not larger than life. He is simply a man with regrets.
As Proctor's heartbroken yet dedicated wife, Elizabeth, Susannah Millonzi carries a quiet strength that makes her fascinating to watch. Her devotion to her husband, which can so easily come across as naiveté, seems to be the glue that holds her entire being together. And Caroline Grogan's Mary Warren is a gut-wrenching portrayal of a simple girl caught in the middle of forces much larger than herself.
Nora and Bedlam are two companies known for consistently outstanding work, and this production is no exception. It is satisfying to know that it will continue off-Broadway after its run here in Cambridge.
Once again, "The Crucible" a harrowing and vital reflection of our time.
"The Crucible" runs through October 20 at the Central Square Theater, 450 Massachusetts Avenue, Boston, MA. For more information, visit the Central Square Theater website.
Comments on Facebook