Gay Boston: The Latest
Administrators at Ohio State University should release the names of all coaches, trainers and personnel who knew of but failed to act on complaints about a now-dead team doctor who sexually abused male students for nearly two decades.
Dozens of students walked out ahead of Vice President Mike Pence's commencement speech at Taylor University Saturday.
The annual GLSEN Respect Awards were held at Cipriani 42nd Street to honor the work of student leaders, educators, community organizers, influencers, and corporations who serve as exemplary role models and have made an impact on LGBTQ youth.
People came out to Long Beach to celebrate A Million Moments of Pride. With breath taking views of the Pacific Ocean, they celebrated everything Gay Pride under the rainbow flag! Long Beach Pride is one of the most diverse LGBT Pride's on the West Coast.
Aaron Schock is back in the news for being photographed at a LA gay hang out with a Speedo-clad companion.
You won't pay for health care in retirement with one lump sum. That's the way these expenses are often presented, though, and the amounts are terrifying.
The Boston Theater Critics Association held their award ceremony Monday night at Boston's Huntington Avenue Theater. Later the attendees and honorees partied at the New England Conservatory of Music. See who was there.
The battle for Cuba's economic future is being waged on its beaches. And at its all-inclusive resorts, dive sites and cobblestoned colonial plazas.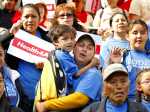 California lawmakers are considering proposals that would make the state the first in the nation to offer government-funded health care to adult immigrants living in the country illegally. But the decision on who to cover may come down to cost.
Kristin Chenoweth has been declared "Queen of the High C's" and VACAYA's godmother, along with Katharine McPhee, Leslie Jordan, Alex Newell, and Lesli Margherita headlining the inaugural August cruise.
Advocates for legalizing marijuana have long argued it would strike a blow for social justice after a decades-long drug war that disproportionately targeted minority and poor communities.
Boston, MA
ArtsEmerson is never one to shy away from tough subject matter. Their recent production "See You Yesterday" is a rumination on the rarely discussed atrocities of the Khmer Rouge genocide in Cambodia during the 1970s.
Gay adult star Brandon Wilde is here to make your summer jams a little...steamier.
President Donald Trump is vowing to have 500 miles of border wall built by the 2020 election. There's reason to be strongly skeptical about that. Here's a look at some of his rhetoric Monday night at a rally in Pennsylvania - and a look at the facts.
Google is assuring users of Huawei smartphones the American company's basic services will work on them following U.S. government restrictions on doing business with the Chinese tech giant.
Washington State residents thought they had purchased health insurance through an online site. But when it was time to pay the bills, they learned that the products they bought weren't insurance at all.
Ford revealed details of its long-awaited restructuring plan Monday as it prepared for a future of electric and autonomous vehicles by parting ways with 7,000 white-collar workers worldwide, about 10% of its global salaried workforce.
As Mexico City's 9 million residents sleep in the pre-dawn darkness, busy hands are already preparing the day's corn tortillas in the small kitchen of Molino El Pujol.
A former nurse charged with sexually assaulting an incapacitated woman who later gave birth at a Phoenix long-term care facility has appealed a court order requiring a test to determine if he has HIV or other sexually transmitted diseases.
The 79-room annex at Mount Rainier National Park's Paradise Inn has reopened after a $25 million renovation.
Amidst the trend towards mindfulness and minimalism, Americans are increasingly finding happiness in cleaning — and the numbers are backing it up.