Watch: Taron Egerton Shines in Elton John Biopic 'Rocketman' Sneak Peak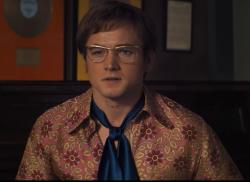 A new sneak peek for the upcoming Elton John biopic "Rocketman" is here and star Taron Egerton covers the iconic "Tiny Dancer."

The featurette finds Egerton covering John's 1972 smash hit for the film.

"Elton said, 'I don't think I've heard anyone sing my songs better than Taron,'" music producer Giles Martin says in the clip. "And the great thing about Elton is that he wants Taron's interpretations of his songs."

Edgerton later says he wants to make sure the songs in "Rocketman" "come from a place of character."

"Elton's songs defined moments in people's lives," he adds.

"Rocketman" is directed by Dexter Fletcher, who finished "Bohemian Rhapsody" after controversial director Bryan Singer was fired but still retains a directing credit.

Starring alongside Egerton is Richard Madden, the British actor who recently won a Golden Globe award for starring in the U.K. hit series "Bodyguard." Madden plays John's manager and lover John Reid. Jamie Bell, Bryce Dallas Howard, and Sheila Eileen also star in "Rocketman," which hits theaters May 31.

Check out the featurette below.
Comments on Facebook