Topics :: Boston Pride
A beautiful day and the biggest crowd in history made this year's Boston Pride Parade and Festival one of the biggest events this year in the city.
Boston Pride continued on Sunday with the annual Block Party in the Back Bay. It was a beautiful afternoon to hang out, dance and celebrate Pride. See who was there.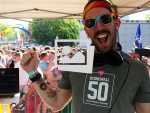 The line stretched down a block to get into the Chandler Street Block Party after the Boston Pride Parade. Check out these great photos.
Boston Pride held its closing night party at Boston's hottest new nightclub, The Grand, in the Seaport. See who came out.
AIDS Action's annual Pride Block Party on Chandler Street filled to capacity early and stayed that way. See who came out.
Boston Pride Parade ended at City Hall Plaza where the celebration continued with the Pride Festival. Check out these great photos.
Boston's Pride Parade was the biggest one to date. EDGE was there to capture the celebration. Here's a sampling of those who crowded the parade route.
DJ Brent Covington and DJ Taffy hosted FUZZ's Pride dance party at Boston's The Alley Bar on Friday night. See who came out.
Boston Pride, in partnership with the Boston Red Sox and Victory Programs, is raffling off the opportunity to throw the first pitch at Pride Night @ Fenway Park on Thursday, June 7.
Boston's Pride Weekend continued with the Back Bay Block Party on a very hot Sunday. Check out who was there!