Topics :: LGBT Pride
It was a beautiful day, and the crowds came out to celebrate Palm Springs Pride, and to support the LGBTQ community.
This year's Come Out With Pride celebration was so huge, that we just had to post part two.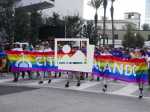 What a beautiful day for a celebration! The crowds came out to show their Pride and to support the LGBTQ community as they enjoyed this year's Come Out With Pride.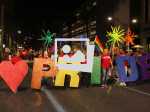 Downtown Las Vegas celebrated its largest Pride yet, with a fabulous nighttime parade and a day and a half of festival fun.
Jersey City had a blast celebrating Heritage of Pride at Club Six26. This amazing venue, with two indoor levels and two beautiful rooftops, had people gathering for a great time with friends while listening to the beats from DJ U-F-OSO.
San Diego held its LGBTQ Pride celebration at Balboa Park with four stages and over 100 performers and community activists.
It was a beautiful sunny day as the crowds came out to enjoy the San Diego Pride Parade and to support the LGBTQ community. People cheered as the participants marched through Hillcrest into Balboa Park for the Pride Celebration.
San Francisco Kicked off Pride in Hillcrest, with the Spirit of Stone Wall Rally. Community leaders came out to give motivational speeches, followed by a moving performance by the San Diego Gay Youth Marching Band, while a huge rainbow flag was raised!
London's biggest Pride parade ever happened with an estimated 1.5 million people looking on as more than 30,000 people from 600 groups marched through the city's West End, marking the 50th anniversary of the Stonewall Riots.
NYC Pride presented VIP Rooftop World Pride at The Park, with two levels, a beautiful rooftop, hot dancers, and great music from DJ's Grind, Toy Armada, Ben Baker and Kitty Glitter.