1 thru 10 of 4178 Stories
A hamburger a week, but no more — that's about as much red meat people should eat to do what's best for their health and the planet, according to a report seeking to overhaul the world's diet.
Happily, Las Vegas is stuffed to the rafters with restaurants good enough to make gourmands groan aloud with pleasure. And like any temple of temptation, the city is always topping itself with the greatest latest, like these three new, super-hot eateries.
The makers of Budweiser, Coors and other large-scale brewers are placing their bets on cannabis as a way to fight saturated markets and shifting consumer trends.
At the 2018 Food & Wine Classic in Aspen, Chef Anne Burrell explains the art of braising as she prepares her Braised Chicken Thighs with mushrooms and an almond puree.
There's a troubling link between a fat-rich diet common in the West and brain-related ailments that can actually impair our ability to avoid overeating.
A wheeled robot named Marty is rolling into nearly 500 grocery stores to alert employees if it encounters spilled granola, squashed tomatoes or a broken jar of mayonnaise.
With America in the middle of a flourishing craft beer and craft spirits movement, it's easy to forget that Prohibition was once the law of the land.
The authors of "Whats Your Season? Healing Principles and Recipes for Your Body Type" offer a fresh approach to optimize your health
The scent of burgers, fries and victory wafted through the stately White House on Monday as President Donald Trump saluted college football's Clemson Tigers for winning the national championship.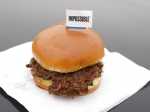 More than four months after Missouri became the first U.S. state to regulate the term "meat" on product labels, Nebraska's powerful farm groups are pushing for similar protection.
1 thru 10 of 4178 Stories