Top Story
Jewelry, clothing and other Elvis Presley-related memorabilia have been sold at auction in Tennessee.
Officials in Key West took the initial steps toward banning the sale of sunscreens containing two ingredients that could be harmful to coral reefs.
A wheeled robot named Marty is rolling into nearly 500 grocery stores to alert employees if it encounters spilled granola, squashed tomatoes or a broken jar of mayonnaise.
With America in the middle of a flourishing craft beer and craft spirits movement, it's easy to forget that Prohibition was once the law of the land.
The authors of "Whats Your Season? Healing Principles and Recipes for Your Body Type" offer a fresh approach to optimize your health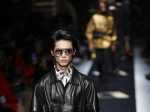 Milan menswear designers are sending clear signals for next fall and winter: Feminine touches are not only acceptable, they are necessary.