Top Story
Israeli researchers raised a glass Wednesday to celebrate a long-brewing project of making beer and mead using yeasts extracted from ancient clay vessels —some over 5,000 yea...
This year, Polo Ralph Lauren will unveil the Pride capsule collection, a five-piece gender-neutral collection for adults and children.
More than half of Americans (53 percent) consider themselves to be foodies, according to new research.
A Wisconsin judge on Friday ordered Anheuser-Busch to stop suggesting in advertising that MillerCoors' light beers contain corn syrup, wading into a fight between two beer giants that are losing market share to small independent brewers.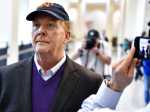 Celebrity chef Mario Batali, whose career crumbled amid several sexual misconduct accusations, pleaded not guilty Friday to a charge that he forcibly kissed and groped a woman at a Boston restaurant in 2017.
Kendall Jenner, Antonio Banderas and other stars attending the nearby Cannes Film Festival turned out Thursday for the 26th amfAR Gala to raise money for AIDS research.