Top Story
Retailers and top fashion brands like Gucci and Prada keep apologizing for products that smack of racial insensitivity. The big question is: Why does it keep happening?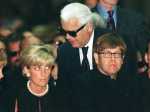 Some reaction to the death of fashion designer Karl Lagerfeld.
Fashion enthusiasts are sharing their favorite images of the iconic designer.
The traditional Italian hat maker Borsalino, whose fedora has defined the rough-and-tumble images of Robert Redford and Humphrey Bogart, has a plan to appeal more to women and millennials by pushing into high-end fashion, streetwear and even sportswear.
No, you're not going to get high, but CBD grooming products are overtaking the skincare industry like weeds. Here are our top picks and why they're so effective.
Over the long weekend, pop singer Shawn Mendes shared photos from his new Calvin Klein campaign — and Twitter users did not hold back their reactions to the eye-popping pics.