Search Results
The ex-neighborhood watch volunteer who killed an unarmed black teen in Florida in 2012 has been banned from the dating app Tinder. An emailed statement from Tinder cited users' safety as a reason for removing George Zimmerman's profile.
A man suspected of involvement in a mysterious dissident group's February raid on North Korea's Embassy in Madrid was arrested in Los Angeles by U.S. authorities.
Actress Anjelica Huston is supporting efforts to outlaw fur sales in the fashion mecca of New York.
London police say more than 710 people have been arrested and some 28 have been charged since climate change protests began earlier this week in the British capital.
An Oregon county has agreed to pay $100,000 to a black employee who sued alleging she was harassed after asking that a Blue Lives Matter flag not be displayed in the office.
A British cybersecurity researcher credited with stopping a worldwide computer virus has pleaded guilty to developing malware to steal banking information.
Egyptians cast their ballots Saturday on the first of three days of voting on constitutional amendments that would allow President Abdel-Fattah el-Sissi to stay in power until 2030 and broaden the military's role.
Dolly Parton's Dollywood has welcomed a fluffy addition to the amusement park — an eaglet.
Adele and her husband Simon Konecki have separated. The pop singer's representatives Benny Tarantini and Carl Fysh confirmed the news Friday in a statement to The Associated Press.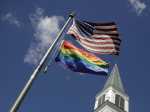 America's largest mainline Protestant denomination is on a path toward likely breakup over differences on same-sex marriage and ordination of LGBT pastors.