Fundraiser @ Canucks Game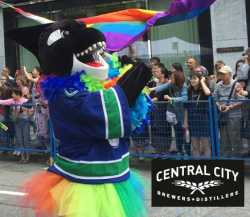 When:
Friday January 20 at 5:30PM

Where:
Central City Brewing
871 Beatty Street, Vancouver British Columbia V6B 2M6

Map It
Buy Tickets
About:

Vancouver Pride Society is hosting a fundraiser event for hockey fans thanks to our friends at the Canucks and Central City Brewing in Yaletown!

The evening will begin with craft beer tasting and pizza at the Central City Brew Pub in Yaletown (871 Beatty)
Then we head to our own corporate box to watch the Vancouver Canucks take on the Florida Panthers. Food and drinks will be provided throughout the game.

Everyone who attends will also be entered into the draw to win a Vancouver Canucks Premier Home Hockey Jersey worth $140! Tickets are limited for this event so get in quick!