2017 Pride Fair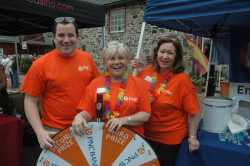 When:
Saturday May 20 at 11:30AM

Where:
The Logan Inn
10 West Ferry Street, New Hope PA 18938

Map It
Visit Website
About:

Pride Fair - Saturday, May 21st 2017
Gates open to the public at 11:00 am Closing at 5:00 pm
$5.00 suggested donation.

Live Music will be open to the public.

Open to all, this event is family and dog friendly. It's a fun filled day that brings everyone together to celebrate diversity. Visitors will also find various vendors and offers LGBT originations and services, crafts, jewelery, clothing and of course food vendors will be there for visitors to grab a snack.

There are many other fun and educational activities slated for New Hope Celebrates Pride week. Some of these activities include FACT Bingo, Comedians, Dances, and other local events.