"Out of Iraq" film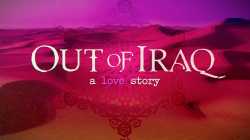 When:
Thursday September 14 at 7:00PM

Where:
Santa Fe University of Art and Design
1600 St Michaels Dr, Santa Fe, NM 87505, Santa Fe NM 87505

Map It

About:

The film, produced by World of Wonder and co-directed by Chris McKim and Eva Orner, recounts the true story of Nayyef Hrebid and Btoo Allami, two enlisted men who fell in love but were forced to flee when Btoo became the target of an honor killing. Nayyef, a translator, obtained a U.S. visa and had to leave Btoo behind, but the couple was determined to reunite one day.

Ellen DeGeneres had Nayyef and Btoo on her show earlier this year when she named them "everyday heroes" and surprised them with a check for $25,000.

CBS's The Talk, including out co-host Sarah Gilbert, took home Outstanding Entertainment Talk Show Hosts, and once again The Ellen DeGeneres Show took home Outstanding Entertainment Talk Show. The honor had added significance as Sunday marked the 20th anniversary of Ellen's coming out on her sitcom, Ellen.