South Florida Gay News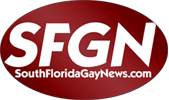 The South Florida Gay News.com celebrates the lives of South Floridians with daily news briefs and storied features, breaking news and lifestyle profiles. Check out their website at southfloridagaynews.com.
While she fell short as an illustrious member of this season's Top Five, she is only just getting started. Alexis sat down with us to chat about her sometimes-controversial time on the show.
It's Pride Time in Polk County, with a full weekend of events planned from June 14 to June 17. The third annual gathering is happening in Lakeland, Florida, about 215 miles northwest of Fort Lauderdale.
The passage of the Pulse Remembrance Day resolution in the Florida legislature is mostly a symbolic victory. But the author of the resolution, HR 8077, Rep. Carlos Guillermo Smith, considers it a victory nonetheless.
While the White House remains silent, other federal agencies are recognizing June as LGBT Pride month.
Mourn the Pulse shooting victims. Volunteer with LGBT groups. Vote. Go to city meetings. Run for office. Those were some of the messages in West Palm Beach on Sunday.
Almost $2 million was raised in one day after the Pulse shooting from a GoFundMe page, becoming the site's fastest growing campaign in its history.
When, at 19 years old, Deondre Moore told his mother he was HIV-positive, she begged him not to tell his story. But Moore told it anyway, and became an official Greater Than AIDS ambassador
In the short time since same-sex marriage became legal throughout the U.S., wedding trends among LGBT couples have changed dramatically.
Nadine was one of four national co-chairs of the 1993 March on Washington. She met with then President Bill Clinton in the first meeting of its kind between a sitting president and gay community leaders.
In Ireland, the majority of schools and hospitals used to be funded by the Catholic Church, a reality that leaves a legacy that must now be dealt with.