South Florida Gay News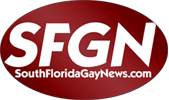 The South Florida Gay News.com celebrates the lives of South Floridians with daily news briefs and storied features, breaking news and lifestyle profiles. Check out their website at southfloridagaynews.com.
This week, the U.S. Supreme court heard arguments on a 2012 discrimination case involving a bakery denying service to a gay couple due to religious beliefs. But there's a similar battle in Northern Ireland.
Russia will allow rainbow flags to be displayed during the 2018 FIFA World Cup despite a anti-gay propaganda law that makes the display of these symbols in public illegal.
With his clothes folded neatly into a pile and student I.D. left out along with other miscellaneous items, young gay teen Scott Johnson fell to his death from a cliff in Sydney, Australia. The year was 1988.
Is God a man? Or a woman? Or neither? Or both? Humans may never truly know the answer to that. But the Church of Sweden recently decided their God is going gender-neutral.
A trial is currently underway for two British Royal Marine corporals who are accused of administering hazing punishments that included being whipped and forced to strip and masturbate to gay pornography.
Violet Palmer, the first female referee in NBA history, will be awarded for her contributions as being an out women of color.
MSNBC Anchor Joy Reid publically apologized Monday after a Twitter user found homophobic remarks on her blog.
"[T]he impact of such a decision wouldn't be limited to LGBT people; it could be used to allow discrimination against people of color, women, minority faiths, people with disabilities, and others."
A former University of Oklahoma professor was awarded over $1 million in damages after a jury found she was discriminated against for being transgender.
The country of Sri Lanka is making a progressive and monumental shift as they work to revise their laws to protect LGBT people.