South Florida Gay News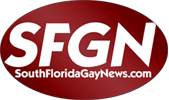 The South Florida Gay News.com celebrates the lives of South Floridians with daily news briefs and storied features, breaking news and lifestyle profiles. Check out their website at southfloridagaynews.com.
The intersex community at large is fighting for children being able to choose their own identity - especially in the face of medically unnecessary and controversial surgeries which leave them without choice.
According to a Mississippi law that went into effect Oct. 10, government and private businesses can deny service to individuals based on their religious beliefs.
Lauren Baer has a chance to make history. If elected next fall, Baer would become the first Congresswoman in a same-sex marriage.
This past Sunday in Las Vegas marked the deadliest mass shooting in U.S. history. The shooter opened fire at a country music festival on the city's strip, killing 59 people and injuring more than 500 others.
Chloe Bressack was supposed to teach math and science to elementary school children. Instead, parental outrage over the teacher's non-binary identity caused administration to take Bressack out of the classroom.
A banana cream pie was a part of one of the most iconic moments in the gay liberation movement.
Research from the University of British Columbia has discovered an increasing trend of suicide rates among gay and bisexual men who make less than $30,000 a year and who do not have college degrees.
As of last week, trans people in Pakistan are now allowed to use their 'gurus' name instead of their parent's name when registering for their country computerized national identity card (CNIC).
A woman running for a seat in the Virginia House of Delegates is on the receiving end of transphobic comments - but she won't just sit and take it.
A 16-year-old student named Andy came out publicly as bisexual during a live debate on the BBC's Newsbeat broadcast, whose discussion centered around sexual consciousness among the emerging Generation Z.