Rage Monthly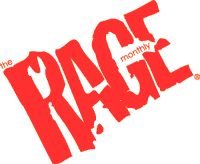 Check out Rage at ragemonthly.com.
Shakespeare once wrote in the play "As You Like It" that "All the world's a stage, and all the men and women merely players." The tried-and-true adage is something actor Adam Pascal can certainly relate to.
Is it true that everything old is new? Perhaps everything is just old? Maybe just timeless? Playwright Jen Silverman investigates this concept.
After roughly a decade passing by, organizers Big Mike, Robert Rodriguez and the Imperial Court de San Diego are reviving the Mr. Gay San Diego competition.
The sacred ground of the freedoms we enjoy today were built on the pain and suffering of those who came before us.
The Del Mar Race Track will play host to the Breeders' Cup on Friday and Saturday, November 3 and 4, bringing with it all of the prestige that is synonymous with this rousing equestrian event.
Many people who spend hours in the gym are trying to get lean and toned, but somehow it ends up being harder than anticipated. What does one have to do to actually tone muscles and see some definition?
"The View UpStairs," is based on the true story about a lively gay bar that was the target of a horrific arson attack on June 24, 1973.
Help to honor those men and women who paved the LGBT rights road and those who benefit from the accomplishments and services of The San Diego LGBT Community Center.
"We hope visitors to the show walk away with a better sense of the wide-reaching and dynamic scene these artists fosters in the '70s and '80s and the sense of playfulness and possibility that permeated their work across art, life, and activism."
With a sweet, alluring twinkle in his eye, Carbonaro's quick, intelligent mind springs the trap set for you, doing so before you realize you've even been ensnared. There's magic afoot for sure, and it's often hilarious to boot.