1 thru 10 of 5913 Stories
Police in eastern Poland detained a number of people who threw bottles at officers and verbally abused participants in the city of Bialystok's first LGBT pride parade Saturday.
U.S. President Donald Trump said he spoke with Sweden's prime minister Saturday about jailed rapper A$AP Rocky and "offered to personally vouch for his bail," a hollow offer in a criminal justice system that doesn't include bail.
With the deadly Ebola outbreak in Congo now an international emergency , neighboring South Sudan and its war-weakened health system is a major concern.
Iran's seizure of a British oil tanker was a response to Britain's role in impounding an Iranian supertanker first, senior officials said Saturday.
Police in eastern Poland say they detained a number of people who verbally abused and tried to block participants in the first LGBT pride parade held in a city that hosted far-right marches in the past.
Urged on by the first lady and celebrities including Kanye West and Kim Kardashian West, President Donald Trump said Friday he is trying to help free rapper A$AP Rocky, who has been held in police custody in Sweden for weeks.
How much do teachers and peers need to know about students' HIV-positive status? And what is the best way of managing their particular health needs at preschool level?
A lesbian couple has married in Ecuador in the first same-sex wedding since a landmark ruling last month by the country's highest court.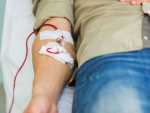 There's good news... sort of... for gay men in France who wish to donate blood: They will soon be able to do so after only four months of complete celibacy instead of a full year.
Fewer mock commando raids to test nuclear power plants' defenses against terrorist attacks. Fewer, smaller government inspections for plant safety issues. Less notice to the public and to state governors when problems arise.
1 thru 10 of 5913 Stories