Top Story
President Donald Trump abruptly quit a meeting with congressional Democrats Wednesday with a flat declaration he would no longer work with them unless they drop their investigation...
1 thru 10 of 49162 Stories
Openly gay Democratic 2020 hopeful Pete Buttigieg stood strong in the face of attacks from the Christian right during a May 22 Q&A event, declaring he does have things to repent for - but his devotion to husband Chasten is hardly one of them.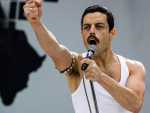 The advocacy organization GLAAD says that LGBTQ representation is up for major studio films released in 2018, but that none included transgender characters.
Various studies have tried to determine how many concussions there are in any given season in the NHL. There's little doubt to retired players that the total among 700-plus players over nearly 1,300 regular-season games, whatever it may be, is too much.
LGBTQ baby boomers, dubbed "the Stonewall Generation," came of age just as the 1969 New York uprising galvanized a push for gay rights. After living through an era of unprecedented social change, they're facing new challenges as they grow old.
Republican lawmaker Nathan Ivie says it took him more than 20 years to come to terms with his identity.
The governor of South Dakota says she does not plan to stop the execution of a death row inmate who claims jurors were biased against him because he's gay.
On the eve of what could be a landmark ruling in Kenya on whether same-sex relations are crimes, gay rights activist and gospel singer Joji Baro says he is has no intention of returning home to the East African country.
Prosecutors have declined to file charges against actor Rick Schroder after an arrest on suspicion of domestic violence.
Michael Avenatti, the attorney who rocketed to fame through his representation of porn star Stormy Daniels in her battles with President Donald Trump, was charged Wednesday with ripping her off.
President Trump dropped the pretense of working with congressional Democrats and sent a clear message that his re-election campaign will be centered on condemning overzealous investigations rather than advancing a robust domestic policy agenda.
1 thru 10 of 49162 Stories