Top Story
Indiana Mayor Pete Buttigieg (BOO'-tuh-juhj) is the latest Democratic presidential candidate to agree to hold a town hall meeting on Fox News Channel.
1 thru 10 of 48764 Stories
The owner of a Kentucky barbeque food truck got more heat than he bargained for when he began selling T-shirts with the message "I support LGBTQ: Liberty, Guns, Bible, Trump, BBQ."
President Donald Trump said Wednesday he'll go directly to the U.S. Supreme Court "if the partisan Dems" ever try to impeach him.
Mayor Pete has not been coy about the fact that he is gay, and he has been equally forthright about his status as a happily married man. But just who is his husband, Chasten Buttigieg?
Olympic figure skater Adam Rippon is launching his own YouTube channel where he promises fans a personal look into his life, off and on the ice rink.
An unbeatable edge bestowed by early voting and a campaign that avoided going negative were hallmarks in openly lesbian candidate Jane Castor's landslide victory in her run for mayor of Tampa, Florida.
Mourners wearing colorful Harry Potter scarves and Marvel superhero shirts were joined by the leaders of Britain and Ireland Wednesday at the funeral of Lyra McKee, the journalist shot dead during rioting in Northern Ireland last week.
A new study says Americans are becoming increasingly sedentary. They spend almost a third of their waking hours sitting down, and computer use is partly to blame.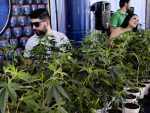 California legislators considered a plan Monday intended to encourage more banks to do business with marijuana companies that have been frozen out of thousands of financial institutions.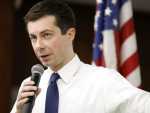 Pete Buttigieg is suddenly the hottest ticket for Democratic donors in the 2020 presidential contest.
When Jason Scott wanted to attend community college in Seattle, he needed a high school transcript, and he couldn't get that without a birth certificate. The problem was Scott is transgender and his Tennessee birth certificate lists him as female.
1 thru 10 of 48764 Stories