Gay Boston: The Latest
Boston, MA
Paula Plum, Karen MacDonald, and Tyrees Allen star in a British eco-disaster drama that plumbs the depths of a complicated friendship. Plum chats with EDGE about the play's hard questions about the future.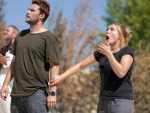 A breakdown of some of the best films of 2019 and where to stream them.
While taboos surrounding online dating are long gone, some of today's app users are sick of the endless swiping and virtual pen-paling that leads nowhere when it comes to long-term relationships.
Students at a Seattle-area Catholic high school have made their feelings known about two popular teachers being reportedly "forced out" of their jobs after getting engaged to their same-gender life partners.
There was a chorus outside the Broadway Theatre on Thursday at the opening night of a new revival of "West Side Story" but what was being sung was a protest chant.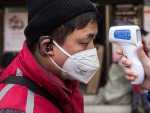 You might have heard that the fear of a new virus from China is spreading faster than the actual virus.
A health policy expert says the vision brought forward by the Trump administration is deeply concerning. Cuts to virtually all important health-related programs bode ill for nations future.
China's leadership sounded a cautious note Friday about the country's progress in halting the spread of the new virus that has now killed more than 2,200 people, after several days of upbeat messages.
In honor of the 30th anniversary of "Gay Disney," the KindRED Pride Foundation has launched an international campaign to inspire one million people to wear RED on the first Saturday in June 2020.
Step out of the sun to check out South Beach's diverse art scene, featuring old masters, modern marvels, Instagram-worthy murals, and a high-tech video installation.
The assignment was to "Take a Stand" by writing a speech on something the students felt strongly about. But the daughter of two women was denied her topic of choice: Marriage equality.
Democratic presidential candidate Pete Buttigieg stopped by "The Ellen Show" this week where he once again took aim at conservative radio host Rush Limbaugh, who recently made headlines for questioning if a gay man could debate President Donald Trump.
Boston, MA
"The Treasurer" wrings free laughter - and pricey anxiety - out of a situation many families may find themselves in: The financially tough position of providing for a profligate elderly parent. Ken Cheeseman offers his insights.
"21 Bridges" is a mediocre cop movie driven by gripping action sequences that do nothing special or surprising.
Victoria's Secret, which once defined sexy with its leggy supermodels in their lacy bras and oversized angel wings, has a new owner.
The European Union unveiled proposals Wednesday to regulate artificial intelligence that call for strict rules and safeguards on risky applications of the rapidly developing technology.
When insurers revoke their decision to pay after the service is completed, patients are legally on the hook for the bill.
Some South Carolina residents deliberately caused hit-and-run accidents while in Uber rides as part of an insurance scam, a car insurance company says in a lawsuit.
The frills are on at Milan Fashion Week, where "pretty" is womenswear watchword of the next cold weather season. Embellishments appeared even on brands known for their spare lines, mostly in the form of constructed ruffles, gathering and tiers.
Scores of organs — mostly kidneys — are trashed each year and many more become critically delayed while being shipped on commercial airliners, a new investigation finds.
Nearly three in five Americans say a vacation saved their relationship, according to new research.
Boston, MA
For this special, once-a-year benefit, the New England Center for Circus Arts invites NECCA alumni and professional performers from around the world to donate their talents to raise money for NECCA's outreach and scholarship programs.
The 21st Annual Glam Awards celebrates the best of New York City Nightlife, it is also an incredible display of creativity, talent and camaraderie.