Out actor Luke Evans took to Instagram Monday to celebrate that he can "finally" see his abs, sharing a shirtless workout pic to his 2.3 million followers.
Chris Hemsworth's latest workout video is...a steamy one!
Greater Palm Springs has more than 300 days of sunshine per year, and come autumn when those desert temperatures begin to drop, there's no better time to create your own wellness retreat. Here's our essential guide to get you started.
Science says age is only a number, not a proxy for physical and mental fitness. But with three Democrats in their 70s vying to challenge the oldest first-term president in American history, age's importance will be tested as never before.
The best shoe that you can have while weightlifting is a lifting shoe, sometimes called a riser. If you are going to be doing things such as olympic weight lifting, heavy duty front-squatting or back squatting, then a lifting shoe is recommended.
Fitness expert Jeff Seid offers a basic shoulder workout with minimal equipment.
From the gym to mountain trails or the sea, having the right clothes are essential. These nine versatile pieces work outside the gym, too, perfect for running errands or lounging around.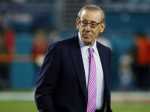 Stephen Ross, owner of the Miami Dolphins and chairman of the Related Companies which oversees fitness giants Equinox, SoulCycle, and Blink Fitness, has stirred controversy for those brands by organizing an elaborate fundraiser for Trump's reelection.
Fitness expert Fraser Wilson offers a 10-minute workout you can do at home — no equipment needed!
Luxury gym Equinox and indoor cycling studio SoulCycle are facing a backlash from some members and celebrities over a fundraiser being held for President Donald Trump by a company executive.