The Count of Monte Cristo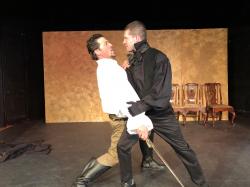 "The Count of Monte Cristo" follows in the tradition of the great literary classics, presenting a deeply flawed protagonist who is seeking vindication.
In RISE's stylish production, based on the classic Alexandre Dumas novel, the titular count spends much of the story as an anti-hero, manipulating people and events out of a sense of deep personal anguish.
Edmond Dantes was a sailor falsely accused of treason and imprisoned for several years in a remote island fortress off the coast of France. Faria, a fellow prisoner, tells Dantes of hidden treasure on the Italian island of Monte Cristo. After Faria dies, Dantes escapes and claims the treasure. Now a count, he returns to France to get even with the men who ruined his life.
Writer/Director Gordon Dell tells the tale in abbreviated fashion, opting to bypass showing Dantes' years of imprisonment and subsequent escape. Dell keeps the action moving with lots of short scenes. There are secrets revealed, promises kept, and threats made. The result is riveting although one drawback is a lack of depth to many of the characters.
The Count is well played by Alex Wersted, a boyish-looking performer exhibiting a sense of earnestness masking bitter resentment toward his enemies. Wersted makes the Count's gradual journey from vengeance to redemption completely convincing.
Even better are the story's many villains.
Christian O' Brien ("Lost in Yonkers") makes for an enjoyably devilish Baron Danglars, a greedy and selfish banker who schemes to marry off his daughter Eugenie (Emily Partington) in order to gain the fortune of her would-be husband, Albert Mondego (CJ Gerhard). When his plans go awry, Danglars faces financial ruin.
Danglars' long-suffering wife Hermine (Rose Linnell) berates her husband for his horrid behavior. O'Brien has a lot of fun playing this weasel.
Christopher Ferreira ("The Diary of Anne Frank") is suitably malevolent as the brutish and bombastic military commander Fernand Mondego, now married to Mercedes (a dynamic Leslie Nevola), Dantes' long lost love. Mondego is truly frightening and appears ready to explode at any moment.
Mondego and the Count have a swordfight which doesn't end the way you would expect.
Other standouts in the large cast are Steve Taschereau, who conveys tremendous authority as Faria, Britt Simard as Haydee, the Count's beautiful young slave, and Rob LeBeau as the louse Caderousse, a friend of Dantes who later betrayed him and became a criminal.
Freya Hainley and Pat Ferron's costumes reflect the characters' personalities. The Count wears all black as an expression of his inner torment.
Among all the deceptions and betrayals and violent deaths is a valuable lesson about forgiveness. The Count realizes there are unintended consequences from his actions. Innocent people end up getting hurt because of his need for revenge.
"The Count of Monte Cristo" succeeds due to the energy of the performers. Dell has brought to life a unique batch of characters showing us the best and worst in human nature. It is tremendously entertaining to see them go through their paces.
"The Count of Monte Cristo" runs through June 16. Presented by the Rhode Island Stage Ensemble. RISE Playhouse. 142 Clinton St., Woonsocket, RI. For tickets and information, please visit RIStage.org.
Joe Siegel has written for a number of other GLBT publications, including In newsweekly and Options.
Comments on Facebook