Top Story
Martha Wash started with Sylvester, then went on to a mega-hit with "It's Raining Men," among the many hits in her five-decade career. EDGE spoke to the disco diva a...
1 thru 10 of 3545 Stories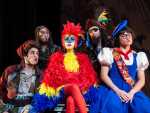 The Harvard Hasty Pudding Theatricals announces its 172nd show, "Mean Ghouls," which runs from February 7 to March 8, 2020 at Harvard Square's Historic Farkas Hall. The show marks the latest for HPT, America's oldest performing organization.
What do you think? Should she have just baked the cake? I'm going to go ahead and make a bet that most people who see "The Cake" will be aware of, if not the exact plot, at least the show's hook prior to entering the theater.
Openly lesbian actor and "Sex and the City" star Cynthia Nixon is slated to direct a Broadway production of a pioneering lesbian play from 1980.
"Cats" returns and delivers exactly what its fans want.
"The Nanny" is the latest TV show to be transformed into a Broadway musical.
Book a flight and "hop the pond" to London, which EDGE named as one of the must-visit destinations of 2020. Three full days will enable you to hit major sites around town and get an insider's look at the theatrical traditions dating back to Shakespeare.
Boston, MA
Actors Chloe Nosan and Nicholas Yenson chat with EDGE about portraying a gay man and a reluctant latter-day Eve in Wellesley Rep's production of Peter Sinn Nachtrieb's play "boom."
With six Tony nominations and one win under her belt, Kelli O'Hara is one of Broadway's most acclaimed leading ladies. She comes to Boston this week for a concert with Seth Rudetsky. EDGE spoke to O'Hara about her career & relationship with Rudetsky.
Boston, MA
Kadahj Bennett, familiar to Boston audiences from work such as "An Octoroon," "Akeelah and the Bee," and "HYPE MAN: a break beat play" gives EDGE his perspective on Antoinette Nwandu's absurdist (and all too serious) play "Pass Over."
Boston, MA
Playwright Lila Rose Kaplan chats with EDGE about the woman power of her new comedy - starting Jan. 10 at the Huntington Theatre - the power of sisterhood, and what's on her horizon.
1 thru 10 of 3545 Stories