Top Story
The box office has a new king and his name is John Wick. The third installment of the hyper violent Keanu Reeves franchise has taken the top spot at the North American box office a...
On her newest album, Carly Rae Jepsen is "Dedicated" to proving that she's determined to earn her place on the pop spectrum, and with this dance-worthy assortment we can officially declare the summer radio season is open for business!
As the Cote d'Azur extravaganza has unspooled over the last week, photographer Petros Giannakouris has focused his camera lens on the smaller fashion details of the festival's famed red carpet.
Winter has come and winter has gone, the last of the heads have been lopped off and the last of the dragon fire has been spit as "Game of Thrones" aired its 73rd and final episode Sunday night
Robert Eggers' "The Lighthouse," starring Robert Pattinson and Willem Dafoe as turn-of-the-century lighthouse keepers, kicked up a storm at the Cannes Film Festival with a wave-making, madhouse period tale that seemingly washed ashore from another era.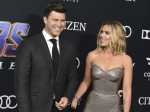 Wedding bells are in the future for actress Scarlett Johansson and Colin Jost of "Saturday Night Live."